Planning to move to a new address? Relocating your place of business elsewhere? Want to rearrange your premises by moving the furniture around? Well, worry not, we're here! Serenity Moving Services is the ideal choice for homeowners and businesses in Chickasha for moving. Backed by 10+ years of expertise and moving knowledge, our commercial and residential moving services in Chickasha, OK, are designed to relieve you of any unwanted stress of moving. Connect with us today and plan a worry-free move to your new destination.
We Offer Local & Commercial Moving Service In Chickasha, OK
Local move refers to moving within a 30-mile radius of your current location. Although the distance doesn't seem great, the transition can definitely be of significance. Without proper planning and supplies, your move can take a toll on you. With the risk of lost goods and misplaced items, your move may result in cost, time, and energy waste. However, you can trust the professionals at Serenity Moving Services to do a seamless job and be tension-free about your move. We make your local move convenient and easy with our full-service moving solutions.
If you are a business owner relocating your office to a new location, tracking goods, equipment, and important documents can be really hectic. In case of any misplaced item, your employees may face unnecessary hindrance in their productivity. That is why it's crucial to plan your commercial move ahead of time and keep all things in check. With comprehensive experience in commercial moves, Serenity Moving Services can make your office relocation a straightforward and undemanding process.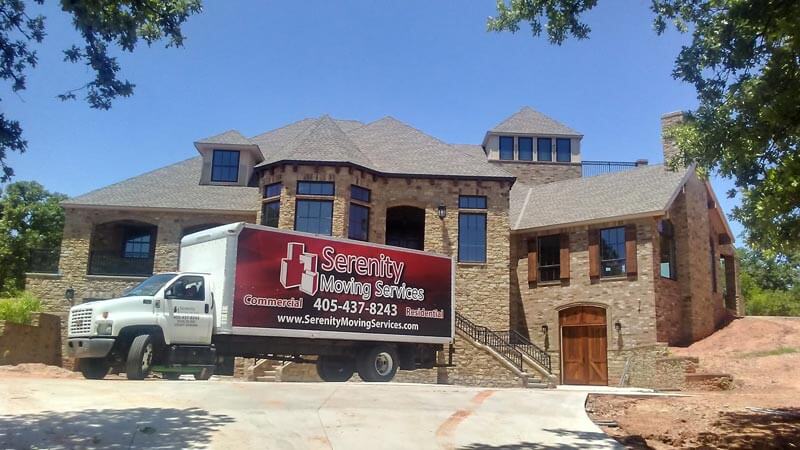 Our Moving Services Include
At Serenity Moving Services, our team is properly trained and experienced in all kinds of moves. Our licensed and insured workers are qualified to cater to your unique moving needs with as little stress and discomfort as possible. Our wide range of moving services in Chickasha include:
Loading and Unloading –

From large furniture to small household items, we will do all the lifting associated with loading your belongings. After the vehicle reaches its destination, we will safely unload your stuff and put it exactly where you want. 

Packing and Unpacking –

We pack each item securely to make sure it doesn't damage during the moving process. Once we reach the destination, we can unpack your items and do a materials removal , saving you from the unnecessary hassle.

Gun Safe Moving –

If you have gun safes or weapon boxes, we can safely transport and unload them to their exact place, minimizing the chance of accidents and injuries.

Piano Moving –

Moving a piano is not easy. That is because pianos are expensive and delicate. It should stay spotless throughout the move, and we, Serenity Moving Services, make sure it stays that way. 

On-Premise Moving –

If you are moving your large belongings from one building or floor to another, we can help you with that. At Serenity Moving Services, we have on-premise moving experts who can safely transfer your goods from one place to another.
Long-Distance Moving Services In Chickasha, OK
In contrast to local move, long-distance moving refers to relocating your new office or residence outside of a 30-mile radius of your current location. Since long-distance moves are executed across great distances (intercity, interstate moves, or countrywide), they require additional planning and scheduling to ensure everything works out smoothly. Because of all these potential complications, it's best for homeowners and business owners to trust professionals. At Serenity Moving Services, we provide a comprehensive range of services to make your long-distance move as peaceful as possible. 
Some of our long-distance moving services include:
Move management

Planning and scheduling

Discarding and donating unwanted items

Post-move cleanouts

Packing and unpacking

Provide boxes, packing materials, and other essentials

Load and unload belongings

Organizing items exactly how you want them

Post-move services to help you settle into your new home & office
No matter how far you're moving, contact Serenity Moving Services for seamless and efficient long-distance moving services in Chickasha, OK.
Get Professional Full-Service Moving Solutions
Our full-service moving solutions in Chickasha allow residents and commercial property owners to have an unchallenging and tension-less moving experience. If you choose our full-service moving solution, we will provide you with a comprehensive package of services from start to finish. These services include:
Packing supplies –

Whatever you are packing, we will come with essentials (boxes, bubble wraps, tapes, etc.) to safely pack each item. 

Packing experience –

Our packing experience enables us to pack all your belongings the right way to ensure they don't get damaged during the move. 

Disassembly and reassembly –

We can easily disassemble large furniture (bookshelves, beds, etc.) to make it movable, and we reassemble it once it reaches its destination.

Loading and unloading –

We'll load each item, no matter how heavy or light, carefully inside the moving truck and unload it to its preferred spot when the time comes.

Unpacking –

Once your stuff is unloaded to its place, we'll unpack everything and do a thorough cleanout, leaving your place in ideal condition.
Our full-service moving solution eliminates your need to do anything by yourself. We'll do all the work while you sit back and enjoy the change of scenery. 
The average cost of full-service moving in Chickasha depends on several factors, including:
Distance of the move

Amount of items to move

Total weight of the items

Amount of delicate or bulky items that require extra attention

Accessibility (elevators, stairs, parking spaces) 

Additional requirements, such as moving furniture after unloading 
Using these factors, at Serenity Moving Services, we decide rates on the basis of distance, number of items, and level of service requested (high-end, low-end, etc.). To know the exact costs, connect with us today!
Your Belongings Are Safe In Our Hands 
Security of the goods is the most critical thing to care for during the move. If any item is misplaced, lost, or damaged, it adds to cost, time, and energy. Therefore, it's important only to trust the movers who have experience, knowledge, and a track record of successful moves. At Serenity Moving Services, we check all the boxes! Our workers are fully licensed and insured.
We are powered by years of experience, which allows us to develop customer-focused solutions, resulting in top-rated customer reviews. We always make sure to keep all your belongings safe, secure, and spotless. At Serenity Moving Services, we don't consider any job as too big or too small. Our sole mission is to make every move an enjoyable and peaceful experience for you. Besides that, our additional coverage options allow you to have an extra layer of protection for your valuable belongings.
Four Tips Before You Move In Chickasha, OK
As professional movers in Chickasha, Oklahoma, we've been at this for a while, so we are familiar with the common hiccups of moving. Below are a few tips that will further ease the stress of your move:
Don't forget to have the utilities transferred into your name before you move in.
Consider hiring a cleaning company to deep clean your new home and line your kitchen shelves before move day.
Consider boarding your pets for the day or sending your pets and kids to a loved one's home. This will ease their stress and yours.
Many new homes and apartments don't have window treatments, which presents privacy concerns. If there's time, have window treatments installed before you move in.
Hire The Best Moving Company In Chickasha, OK
As one of the leading affordable moving companies in the area, we are committed to keeping your belongings safe and intact throughout the move. Our team will take great care when packing your goods, treating each item with a gentle touch. This way, you know that your belongings will arrive in the same condition as when they left, allowing you to start setting up your new space right away. So, what are you waiting for? Contact Serenity Movers today!
Frequently Asked Questions (FAQs)
On average, moving services in Chickasha, OK, cost $352/hr on a very high end and around $150/hr on a low end, depending on the volume. However, at Serenity Moving Services, our rates vary on the distance, the number of items to move, and the level of service requested.
Yes, Serenity Moving Service in Chickasha provides insurance for every move. Our experienced team will carefully handle your items, but our insurance will cover the costs in the rare case of any damage or loss.
We, Serenity Moving Services, are Chickasha's top-rated and most trusted moving company. With 10+ years of experience, a commitment to exceptional customer service, and a focus on providing safety and security to your belongings, we offer 5-star moving service.
At Serenity Moving Services in Chickasha, we make hiring moving services easy! Call us, tell us your moving needs, and we'll provide a free quote. Our prices are reasonable and competitive.
Our moving services package in Chickasha, OK includes a team of experienced movers, a moving truck, loading and unloading your items, and disassembling and assembling furniture. We also provide a service for an additional fee, including packing materials such as boxes, tape, bubble wrap, and other packaging materials.