Services
Reliable Moving Services To Help You
Full-Service Movers
Professional Moving Company In Norman, OK
As a professional moving company in Oklahoma, we offer a range of moving and packing services to help make your move as simple as possible. We cover everything from packing-unpacking, loading-unloading, gun-safe moving, piano moving, on-premise moving and full-service moving. Our movers also have experience handling specialty items and work to always exceed your expectations.
Moving to a new home is exciting! Nothing says a fresh start quite like a new place to live. However, a moving situation can turn out to be highly stressful and time-consuming. If you are looking to hire a moving company, Serenity Moving Services is here to help! As an experienced moving company in Norman, OK, we do whatever we can to make your move as efficient as possible. Our Oklahoma movers will ensure that everything arrives at your new home on time and in excellent condition. We are moving experts! So, when you plan on moving, remember us and let our team handle the work.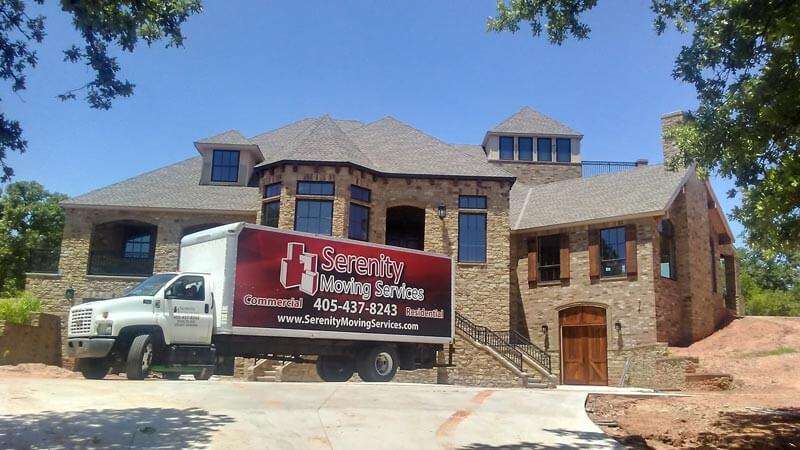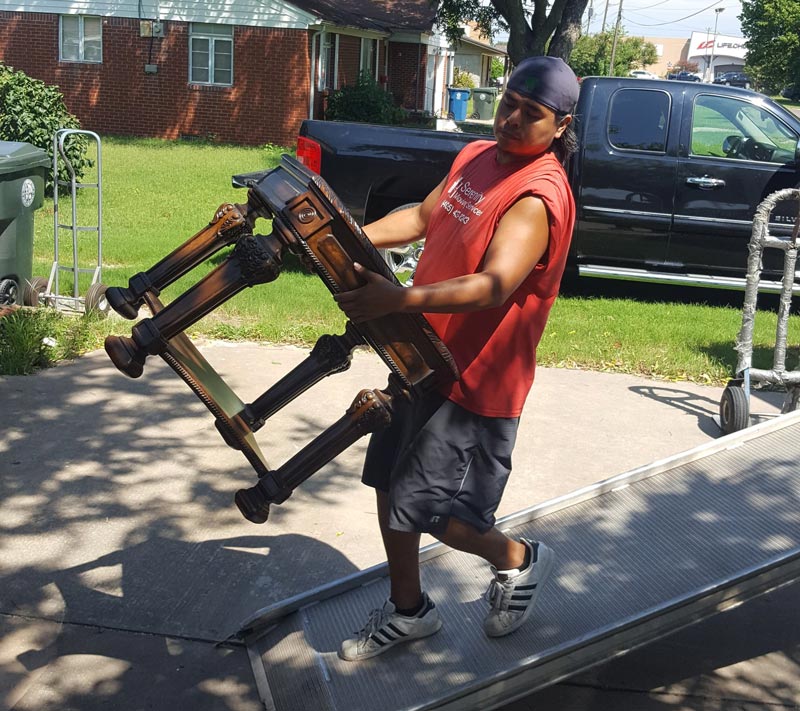 Commercial Moving Experts in Norman, OK
Our Commercial Moving Services
Commercial moving services comprise relocating office equipment such as office furniture (desks, chairs, sofas, etc.), electronic equipment (printers, scanners, computers, etc.), laboratories, and warehouses (machines, crates, pallets, etc.). We, Serenity Moving Services,are a certified and professional moving company in Norman, OK, provide commercial moving services for your office relocation needs. 
Our full commercial moving services include the following–
Office Move Service

Electronic & Tech Move Service

Industrial Machinery Move Service

School & University Move Service

Long Distance Commercial Moving Service
Serenity Moving Services will work with you from pre-move planning and streamlining your moving process to stress-free moving on the moving day and post-move support. We also provide after-hours moving services, i.e., we can relocate your office on weekends to minimize the impact on your business!
Across Norman
Best Long Distance Movers
At our moving company, we want to help make moves throughout Oklahoma as hassle-free as possible. No matter where you live in Norman or wherever you are moving to, we are a full-service moving company that's here to provide personalized long-distance moving solutions, whatever you need. Our team of skilled movers takes pride in providing exceptional service to clients in Norman, the surrounding regions, and the wider Oklahoma City metropolitan area. Let us help you move your property safely over long distances!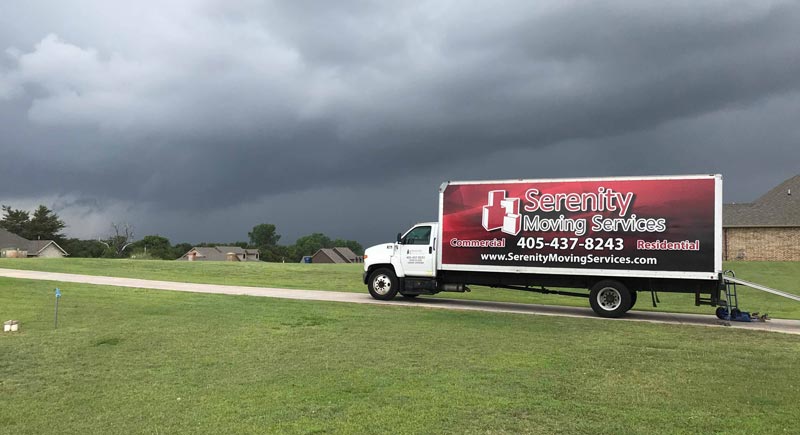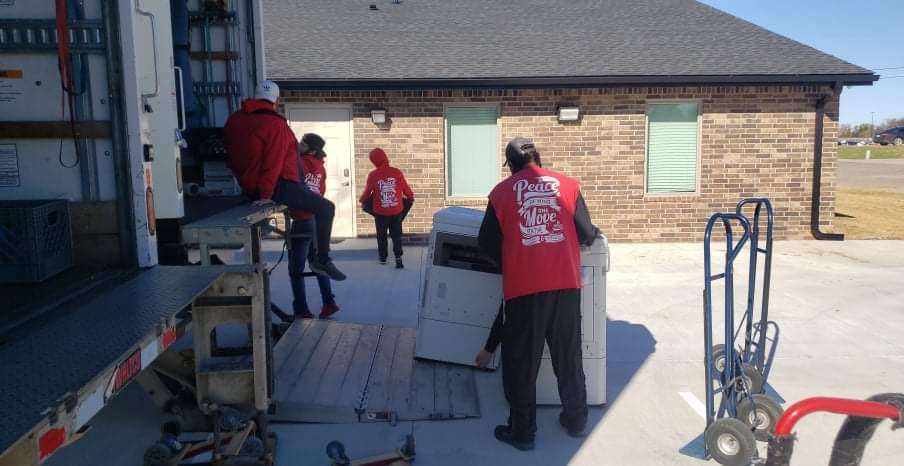 Reliable & Fast
Local Movers in Norman, OK
Are you moving within Norman or just down the street or across town within 50 to 100 miles? Serenity Moving Services is a reliable local full-service moving company in Norman, OK. Our local movers in Norman will efficiently move your belongings from point A (location) to point B (destination). From scheduling your move, getting an estimate, packing your belongings, and loading and transporting to unpacking your belongings, our movers can assist you with your local-distance moves.
As we are a locally owned and operated company in Norman, we are familiar with this city's local area. Plus, our local moving charges in Norman are cost-effective. We also offer full transparency on our local move price by assessing the size of your move, the distance of your move, and the service you require (i.e., whether you need additional services like packing, unpacking, or storage). 
Frequently Asked Questions (FAQs)
The average cost for a local move is between $200 and $7,500, depending on the services requested and the amount of belongings you need to move. For a long-distance move, it costs $950 to $17,000 depending on the distance of your move (i.e., from 250 miles to 2500+ miles) and number of bedrooms (i.e., 1 to 5). Additionally, for extra packing services, it can cost you from $250 to $1,400 for a single moving project.
Here's how to choose a moving company–
First, lay out the services that you need for moving from packing, loading, transporting, unloading, and unpacking. 

Then, get estimates for different moving companies to weigh your options. 

Now compare flat rate vs. hourly rate to get a clear idea of exactly how much this moving will cost you.

Try finding out additional charges like – administrative fees, additional mileage fees, or complexity fees.

Look for online reviews to see how honest, efficient, and safe this moving company is.

Also, look at their licenses and insurance to understand their legitimacy.

Make a contract to avoid paying extra money on services like unloading at the last minute.
If you are searching for a reliable, professional, and licensed moving company in Norman, OK, then Serenity Moving Services can help you minimize your moving stress and put your moving on track from day #1.
When you're hiring a moving company, you must always look at their–
Legitimacy –

Search for their license information by putting their United States Department of Transportation (USDOT) number in the FMCSA.

Contract –

Moving company scams are very common. So read the bill of lading (i.e., your contract) carefully, especially the payment details, to figure out if you have to pay extra costs later.

Liability –

Your homeowner's insurance will not cover your belongings when it's on the road. So take Relocation Insurance or opt for their packing services and see if the moving company informs you about their company policy of paying for the damaged items. 
We, Serenity Moving Services, are a legitimate moving company in Norman, OK. For all your long-distance/short-distance moves and commercial/residential moves, we take full responsibility for your items if they get damaged during the move. However, it's very uncommon that your items will get damaged since we get the job done right the first time!
Moving companies generally estimate the weight with two methods–
Origin weighing –

Movers will weigh the truck before arriving at your location. Then, once more, the items get loaded inside the truck.

Destination weighing –

Movers will weigh the truck after arriving at your location and then again after the items get unloaded.
Check the reviews on Yelp or Better Business Review. Then, ask for proof of license and insurance to see if they have registered their business in the U.S. DOT system. Also, check if they have a website because a reputable moving company always does. Finally, see if they offer a free estimate via phone or in-person inspection. If it's through a phone, it's a scam! 
Absolutely! If you are moving over 400 miles from your current location, then Serenity Moving Services offers long-distance moving/long-haul moving/interstate moving services. We offer comprehensive moving, loading, unloading, and storage services. Our convenient additional long-distance moving services include packing and unpacking. We follow FMCSA's regulations and do the necessary paperwork and documentation before moving. Call us for a free estimate!
They are the best company ever! I have used them 4 times and I wouldn't ever hire anyone else in OKC.
These guys were punctual and communication was fantastic! Do yourself a favor and hire this company for your next move.
Serenity did a fantastic job! Their movers were quick but conscientious. They were referred to me and I will refer them to anyone who asks!
Thanks for a great job in breaking down, moving and setting up!  Keep up the standard 5 star service, friendly, professional and efficient, and you took great care of everything!
A pretty straight forward move, but with a couple really challenging pieces, and these guys worked through it safely, efficiently, and with a great attitude.  Highly recommend.