Although some buildings may sit vacant for what feels like forever, no building ever stays completely occupied by the same business or organization forever. Sometimes, a business may outgrow a building. Other times, a business may realize it would be more economically efficient to reside in a smaller space for the services they provide. Then again, sometimes buildings grow too old and outdated and require a move even if the location is perfect.
The point is, businesses often need to relocate just like any person does when they realize the need to move homes. And when a business moves, they also often need help with all the things you typically see in a residential move.
Serenity Moving Services has a great deal of experience moving various businesses. Our professionals have moved small and large-scale businesses, including commercial offices, warehouses, and retail spaces. We have the experience and know-how to make your commercial move successful while minimizing the impact on your business functions. If you're in Edmond, OK, and are in need of commercial moving services, you've just found your solution.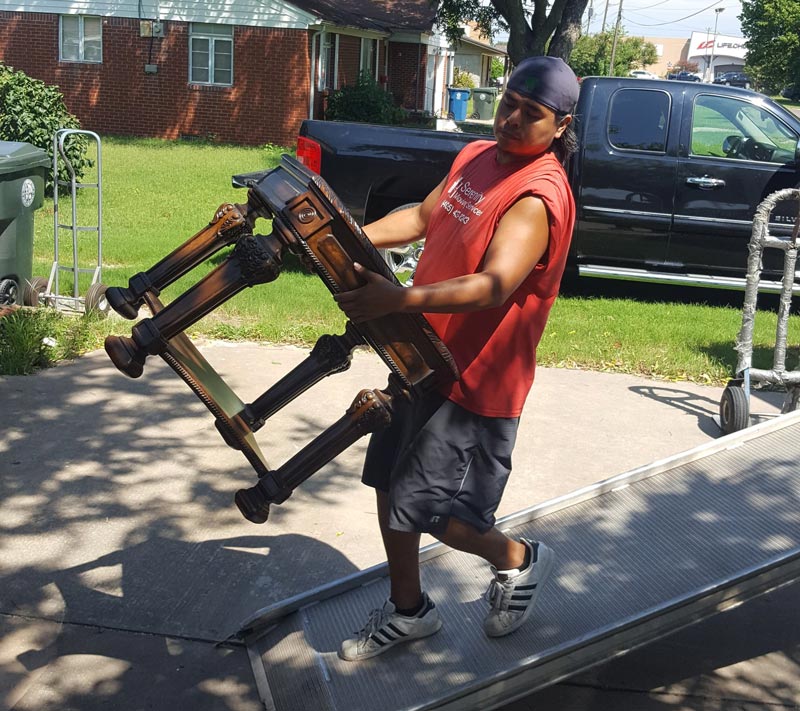 Commercial Organizations We Provide Moving Services For
We mentioned we have much experience moving small and large commercial operations. To be more specific about the types of commercial businesses we usually handle, we move:
Business Offices
Government Offices
Industrial Spaces
Schools and Universities
Restaurants and other Hospitality Businesses
Law Firms
Yes, it's a generic list, but it does provide a quick glimpse of the types of commercial moves we handle be it for furniture moving, office moving or more. If you're concerned your business or organization doesn't fall into one of the above categories, contact us anyway.
Even if you're a home-based business in Edmond, OK, or looking to start a business and need stuff moved out of storage, we've got you covered.
Our Commercial Moving Services In Edmond Include
Our commercial moving services will include a moving plan tailored specifically for your commercial needs. However, you can expect, at a minimum, the following recommended services:
Packing and Unpacking Services In Edmond: We pack everything you need for your organization using the appropriate packing materials, boxes, and equipment. We thoroughly document and track every box and what's in each box. Be it to pack and unpack furniture or provide services for other office materials, we have you covered. Once at the new location, we'll unpack your stuff and put it exactly where you want it.
Loading and Unloading Service In Edmond: We'll assign the appropriate number of people to your move to ensure your items are handled correctly, in a timely and professional manner. All appropriate equipment for your move will be utilized. Again, at the new location, just tell us where you want us to put your items.
Local Moving: Our local moving professionals know how to securely pack moving vehicles to ensure your property remains secure during transit without light loading or leaving heavy items unsecured.
Clean-up: Once the unpacking is complete, we'll take away all the used packing supplies for proper disposal.
Differences Between Residential and Commercial Moves
When people think about packing and moving, they usually think about a typical residential move. If you've never moved a commercial organization or business, why would you think of anything else but a residential move?
That being said, both residential and commercial moves share a ton of similarities. They both involve packing and unpacking, loading and unloading, full moving, and transporting. Oh, and clean-up at both the old and new locations.
One area where they differ is in the types of items being moved and the sheer scope of the move. If it's a small business, the move might actually be a bit smaller than a residential move. If it's a warehouse being moved, yes, the size matters, but the inventory alone will usually be greater than a residential move.
Residential moves typically involve a larger variety of items. Commercial moves may involve more stuff, but a lot of the stuff is pretty much the same. If it's a law or business office, it'll involve a lot of document boxes and furniture that look the same.
An industrial business, though, may involve very little furniture, some file boxes, and very heavy and expensive equipment. The biggest difference, though, and probably most important, is a commercial move can actually keep a business or organization from functioning for a period of time.
As a result, Serenity Moving Services in Edmond, OK, does its best to minimize downtime while ensuring you have access to your inventory or equipment as necessary during the moving process.
Contact The Best Commercial Moving Company In Edmond, OK
Moving is stressful. There's no denying that fact, and if someone does, they've probably never moved before. Rearranging a living room can be exhausting. Moving a whole home is daunting, and something people try to limit as much as possible. Relocating an entire business adds the exhaustion and stress of a normal move, together with concerns about continuing business operations.
Worry no more!
Our team of commercial movers in Edmond, OK, will do its best to minimize your operational downtime while also ensuring your move is executed promptly with care, professionalism, and attention to detail. We'll also make sure you always have ready access to your inventory, documentation, and equipment whenever you need it during the commercial moving process.
If you're looking for a commercial services moving company that has your best interests in mind, look no further than the pros at Serenity Moving Services in Edmond, OK. Contact us today for more information.
Frequently Asked Questions (FAQs)
Commercial Moving Service is a moving service that often moves equipment for businesses and organizations. Often commercial moves involve larger quantities of items and focus more on complex logistics and specific timelines.
To hire Serenity Moving Services for a commercial moving service in Edmond, you can always reach us at (405) 437 8243 or email us at [email protected]. You can also fill out a form on our website to hire our services. Our company will contact you, and we can schedule a moving date.
Hiring a mover in Edmond costs $414/hr on average. A Commercial move costs more than a regular move. The moving also depends on the scale of your business and the quantity of the items. 
Yes, Serenity Moving Services cover moving across almost all industries. We have the equipment to handle moving and provide various moving services.
No, hiring a commercial mover with Serenity Moving Services in Edmond has no hidden or extra charges. Before moving, we are completely transparent about our costs and customer transactions.