Are you planning to relocate your business to or from Moore, Oklahoma? While moving your entire business operation can be daunting, we're here to simplify things for you. Whether relocating your office or moving into a brand-new retail space, we've got you covered. At Serenity Moving Services, we've got answers to all your questions about commercial moving. We understand how stressful moving your enterprise to a new place can be. We also recognize that time is money in the business world. That's why, with our commercial moving services, you can reduce disruptions to your daily operations and focus on the things that matter the most.
Our commercial movers in Moore, OK, specialize in the safe and smooth transition of your workplace. Additionally, our movers in Moore, OK, offer packing and unpacking services to ease your worries. Make us your moving partner today, and we'll help you move successfully! Ready to begin?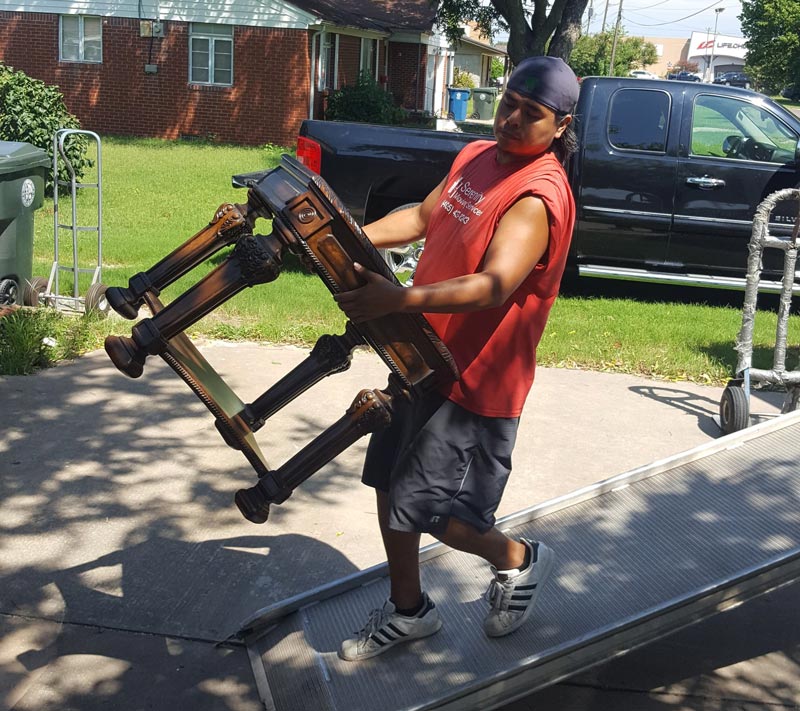 Serenity's Commercial Moving Services In Moore, OK
With our full service moving, we offer specific services for the commercial niche. We tailor moving plans specifically for your business that include some or all of the following:
Packing and Unpacking Service
With our packing and unpacking service, all items related to your business will be packed professionally. We'll minimize waste while making sure your property is protected using the appropriate packing materials. At the new location, we'll unpack everything and place your items as directed.
Loading and Unloading Service
We offer loading and unloading services. We'll do all the heavy lifting, moving, and putting down so you don't have to worry about anything other than where you want us to put your stuff.
Moving Transport
If we load it and unload it, we might as well transport your stuff for you, too. We'll pack all moving vehicles safely and securely so that your property arrives the same way it departed.
Clean-Up
After everything is unpacked and put where you want, we'll take away all of the used packing materials and boxes. We'll take care of the disposal so you can focus on establishing your business in its new location.
Serenity Moving Services has the solutions for your commercial moving needs throughout Moore, OK.
Differences Between A Commercial and Residential Relocation
Commercial moves share a lot in common with residential moves. If you've ever experienced a move, you already know there's a lot of packing and unpacking to be done. Then there's the loading, transit, and unloading at the new location.
If there are large items or unique spaces like high rises or tight staircases, special equipment is usually used to make sure items are moved efficiently and securely while eliminating potential damage.
Corporate and law offices tend to have a lot of furniture and document boxes, whereas industrial and technological spaces have more heavy equipment or fragile items like data servers and computers.
Then there are retail spaces that can have a large variety of inventory that needs to be packed, documented, yet readily available for fulfillment needs during the moving process.
Those examples really illustrate the biggest difference between a residential move and a commercial one. Your commercial move in Moore, Oklahoma, can interrupt the actual functioning of the business for a certain amount of time. Serenity Moving Services strives to minimize such downtime while ensuring important equipment and inventory is available throughout the relocation.
Commercial Businesses We Serve In Moore
If you're a commercial business in Moore, OK, and considering a move but unsure if we can handle your type of business, contact us. As commercial movers in Moor, OK, we will answer any questions you have when it comes to commercial relocations specific to the area, and what we can do for you.
We typically handle the following business on a consistent basis:
Business Offices
Government Offices
Industrial Spaces
Schools and Universities
Restaurants and other Hospitality Businesses
Law Firms
This list is only a snapshot. Contact us today with your specific needs. We're ready to help.
Why Choose Professional Commercial Moving Services?
It's a moving company's duty to treat a client's property with care and respect. This is especially true for commercial moves, where the property isn't only personally important, it's also expensive, and any damage can directly impact the functioning of the business being moved.
We at Serenity Moving Services in Moore, OK, take this obligation to heart. It's also what allows us to stand out among the many other options you have for commercial moving services.
Our teams are well-trained and understand that moving commercial property, whether it's data servers or heavy machinery, requires experience, attention to detail, and patience. We don't rush the job at hand just to say the job is done.
Hire A Commercial Moving Company In Moore, OK
Relocating household goods from an apartment or home to a new residence is a stressful undertaking. Relocating a business, especially one that's currently operating and cannot afford much downtime, is a stressful undertaking at another level.
Serenity Moving Services understands the importance of making sure your commercial move is done right, is done as fast and as efficiently as possible, and is done in a manner that ensures your property arrives undamaged while also being available to you during the relocation effort.
Lastly, we'll do our best to minimize your business's downtime without sacrificing safety. If you're in need of commercial moving services in Moore, OK, get in touch with us! We provide a free quote and answer all your questions.
Frequently Asked Questions (FAQs)
You can hire a commercial moving service with Serenity Moving Services in Moore, OK. We provide seamless and smooth commercial moving services, leaving you with no worries. We treat your belongings as our treasures.
To hire a commercial moving service in Moore, you can contact the experts at Serenity Moving Services via call at 405 437-8243 or email us at        [email protected]. Our team will provide you with relevant quotes and information on any commercial move in Moore. 
Generally, it costs around an average of $120-$331/hr for a crew of two movers and a truck for any moving service in Moore. But your commercial moving cost varies depending on the size of your belongings and distance. If you want additional services, you will get charged extra with Serenity Moving Services. 
The schedule for Serenity Moving Services – commercial movers in Moore is Monday to Saturday, 8 am to 6 pm, and on Sundays, we provide moving services from 9 am to 5 pm.
Yes, commercial movers move all types of furniture and materials. At Serenity Moving Services, we also disassemble and assemble your furniture after moving as required. We cater to providing you with the best moving experience possible so that we will move everything for you!