Full Service Moving in Oklahoma City, OK
One of the biggest decisions a person can make when it comes to moving is whether to move at all. Seems like that would be the biggest choice, actually. And in many cases, it is.
However, sometimes the need to move isn't a big decision. A lot of times, people want to move. Maybe it's because they're buying a new home or they're moving their business into a bigger location. Other times, it may be due to life changes that make moving a necessity as opposed to a desire.
Whatever the case, let's assume the decision to move has already been made. The next big decision you'll be faced with is whether or not to do the whole move by yourself, hire help for specific parts of the move, or hire a professional moving company like Serenity Moving Services to perform the entire move, allowing you to relax and let someone else handle all the stress.
It's a tough decision, for sure. Let's show you why we're the right choice for you.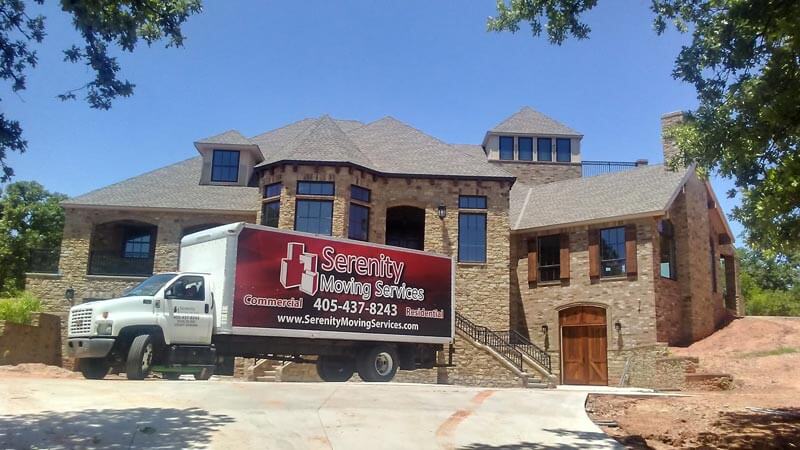 Money and Stress
Yes, if you did the move on your own, you could save money, but that doesn't mean you won't have to spend some money. You'll also be taking on the full responsibility of handling all the packing and unpacking, loading and unloading, renting a moving truck and equipment, and cleaning up both the old location and the new one.
All on your own. This means you get to deal with the stress of a move all on your own, as well.
Or, you can hire a company like Serenity Moving Services to handle parts of your move, like the packing and unpacking, or the entire thing.
If you're in Oklahoma City and facing an upcoming move, don't do it alone. Turn to our pros to help with at least part of the move so you can rest easy. Or hire us to take care of it all, and you relax knowing all aspects of your move will be handled professionally, on schedule, and with little stress, for you to deal with.
Our Moving Services in Oklahoma City, OK
Below isn't a full list of our services. However, they do cover the vast majority of the types of moves we handle:
Full Service Moving. We handle every aspect of your move from your previous location to the new one.
Local Moving Services. Just looking to move locally within Oklahoma City? No problem. Our local movers know all the ins and outs of moving within OKC, including the best routes and which streets to avoid while driving a moving truck.
Long Distance Services. If you're not able to stay locally or are moving to OKC from another city in Oklahoma, we have the resources statewide to support you with whatever help you need.
Packing and Unpacking Services. If you hate packing and unpacking, let us do it for you.
Commercial Moving Services. If you're a business owner or if you manage a commercial entity that needs to relocate, we have the expertise to move not only your inventory but also expensive and business-critical equipment while minimizing the impact on your operations.
Gun Safe Moving Services. Gun safes are far from easy to move on your own. Let our team of professionals handle the heavy, bulky safe and save your back from unnecessary strain.
Piano Moving Services. Like gun safes, pianos require a lot of manpower and expertise to move, although with a little more finesse sprinkled in.
On-Premise Moving Services. If you don't need to move locations but do need help moving your stuff within your current place, we can help with that as well.
Of course, with all of the above services, Serenity Moving Services also provides the necessary equipment and supplies to make your move efficient and seamless.
Want to Know More About Full Service Moving?
There's no avoiding cost when it comes to moving. As we stated above, even if you do a complete do-it-yourself move, you're going to have to pay for something. In most DIY cases, you're saving money on labor, but you still have to pay for all the packing materials, renting a moving truck (unless you have one handy), and you'll probably owe some friends a lot of favors for helping you load and unload everything.
But the biggest cost for you when you do it all yourself is time. What you save in labor, you spend so much more in your own time.
Or, you can save that time, reduce your stress level to almost zero, and keep your muscles from hating you for days by hiring the professionals at Serenity Moving Services to handle every aspect of your move in Oklahoma City.
That means you won't have to worry about packing and unpacking, loading and unloading, finding a moving truck, or picking up boxes or packing paper or bubble wrap. And you won't have to do any cleanup of the used material once the move is all done. We handle all of that. The only thing you need to do is tell us where the new location is and where you want your stuff once we get it there.
Best Moving Company in Oklahoma City, OK
If you're in Oklahoma City and looking for help with an upcoming move, or if you're in Oklahoma and need help moving to or from OKC, consider Serenity Movers, the best moving company in Oklahoma City to help with certain parts of your move or to handle the entire thing.
If you're interested, contact us today! We're ready to answer any questions and help when you need it.
Frequently Asked Questions (FAQs)
The cost of moving services in Oklahoma City varies greatly depending on the size and distance of your move. Generally, our moves for long distance and local; are charged by an itemized based rate, while moves out of storage are based on a combination of time and manpower used.
Generally speaking, there are 3 types of movers in OKC: full-service movers, self-service movers, and specialty moving services. Full-service movers handle everything from packing up your belongings to loading and transporting them to the new location. Self-service movers provide only the transportation service and offer customers help with loading and unloading their items. Specialty moving services focus on providing specialized services such as automobile transport, piano moving, storage solutions, etc.
Yes, Serenity Moving Services in OKC is always insured. Our company goes the extra mile to protect our customers and their investments. We have a comprehensive insurance policy that covers any damages or losses during the move, as well as liability coverage in case of any accidents or injuries sustained by our employees while on your property. This coverage ensures the protection of your items in the event of an accident or unforeseen circumstance.
Yes, Serenity Moving Services in OKC provides installation services along with their other moving services. We can handle all types of installations including large furniture and appliances, as well as security systems and home entertainment setups. Our experienced team of installers is available to help make the transition into your new space a smooth one.
Most of the time, customers pay Serenity Moving Services for moving services in OKC after the move is complete. Payments can be made by cash, check, debit, or credit (Visa, Mastercard). For larger moves, payment plans can be arranged if needed. We are dedicated to making it easy and stress-free for our customers to pay for our services.