When it comes to moving, we all know it is exciting but also comes with many headaches. From packing up your entire goods to the logistical challenges of moving, such as transporting the belongings to a new location and moving heavy furniture, can leave you feeling overwhelmed. That's where our reliable moving company in OKC, Serenity Moving Services, comes to the rescue.
Our professional movers understand the complexities of moving, from packing heavy lifting, navigating the traffic, and more. We can make the moving transition as smooth as possible for you and your family. From moving locally to outside the city, we can ensure your belongings will get to you safely, no matter the place. We provide different moving services like packing, unpacking, loading, unloading, piano moving, and more to make your moving experience effortless. Call us to experience a stress-free moving experience in OKC today!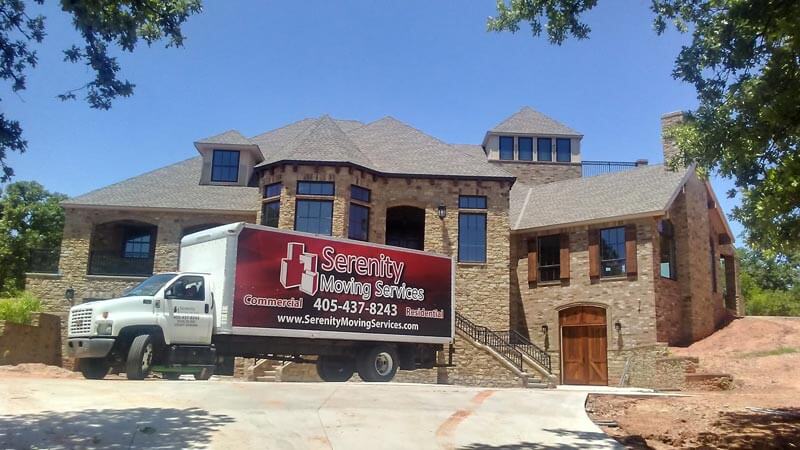 Local Movers Serving In Oklahoma City & Surrounding Areas
Are you looking for a reliable local moving company in Oklahoma City & surrounding areas? Your search ends here. Serenity Moving Service has been ranked in the top 10 best movers in Oklahoma City, OK. With customer satisfaction in mind, we customize our services per our customers' needs. Whether you need help with full moving service or want to move a few belongings like furniture or a piano, we have your back! We provide full moving services, loading and unloading, packing and unpacking, gun-safe moving, piano moving, and more services within our local moving services.
Our team of experts understands the intricacies laced with the local terrain, traffic issues, and other unique challenges that pop up during the moving process. However, our team ensures that none of these issues will hinder your moving experience and try their best to provide a seamless moving process for you and your belongings. We handle all your items carefully, giving you peace of mind during moving.
Commercial & Residential Moving Made Easy
At Serenity Moving Services, we provide moving services for both commercial and residential needs. Our moving company in OKC has a team of experts with years of experience moving items for commercial and residential needs. Our team has moved small and large-scale businesses, including commercial offices, warehouses, and retail spaces. We have experience making your commercial move seamless without impacting your business functions. We provide commercial moving services for businesses, government offices, industries, schools and universities, restaurants, and more.
Likewise, we also have years of experience moving residential. We do everything from full moving service to moving a small item! Call us today to learn more about our moving services!
Our Moving Services In Oklahoma City, OK, Include
Below isn't a full list of our services. However, they do cover the vast majority of the moving services in Oklahoma City provided by us.
Full-Service Moving. We handle every aspect of your move from your previous location to the new one.
Local Moving Services. Just looking to move locally within Oklahoma City? No problem. Our local movers know all the ins and outs of moving within OKC, including the best routes and which streets to avoid while driving a moving truck.
Long Distance Services. If you're not able to stay locally or are moving to OKC from another city in Oklahoma, we have the resources statewide to support you with whatever help you need.
Packing and Unpacking Services. If you hate packing and unpacking, let us do it for you.
Commercial Moving Services. If you're a business owner or if you manage a commercial entity that needs to relocate, we have the expertise to move not only your inventory but also expensive and business-critical equipment while minimizing the impact on your operations.
Gun Safe Moving Services. Gun safes are far from easy to move on your own. Let our team of professionals handle the heavy, bulky safe and save your back from unnecessary strain.
Piano Moving Services. Like gun safes, pianos require a lot of manpower and expertise to move, although with a little more finesse sprinkled in.
On-Premise Moving Services. If you don't need to move locations but need help moving your stuff within your current place, we can also help with that.
Of course, with all of the above services, Serenity Moving Services also provides the necessary equipment and supplies to make your move efficient and seamless.
We Provide Expert Long Distance Moving Service In OKC
Serenity Moving Services–OKC's best long-distance moving companies provide clients with unmatched and convenient long-distance relocation solutions. Trust us; we can efficiently take the load off your shoulders. Here is all the information you need for a long-distance move. 
Distance Covered:

If you travel over 100 miles, we offer a full long-distance moving service

Price: Our highly trained, skilled, and experienced movers will provide competitive pricing and flexible scheduling options with no hidden fees. We averagely charge you from $1,490 to $2,230 based on moving requirements in OKC for long-distance moving. However, our prices vary depending on the distance, the weight/volume of your belongings, the type of moving service, interstate moving cost, and labor. 
Full-Service Long Distance Moving:

We take care of everything from packing, moving, loading, unloading, and unpacking to flexible storage options to provide a full-service long-distance haul.

Locations Served:

From our 10+ years of experience, our long-distance moving portfolio has 13 cities, including OKC. We can efficiently move out-of-state from within OKC to other states; you can contact us to get information on all the states we service from OKC outward. 
We also have DOT and FMCSA authorization meaning that we are licensed, bonded, and insured to protect your valuable belongings fully. That's why we are a reliable long-distance moving company in OKC!
Why Choose Professional Moving Services?
There's no avoiding cost when it comes to moving. As we stated above, even if you do a complete do-it-yourself move, you will have to pay for something. In most DIY cases, you're saving money on labor, but you still have to pay for all the packing materials and renting a moving truck (unless you have one handy), and you'll probably owe some friends a lot of favors for helping you load and unload everything.
Saves Time & Stress: Time is the biggest cost for you when you do it all yourself. What you save in labor, you spend so much more in your own time. Or, you can save that time, reduce your stress level to almost zero, and keep your muscles from hating you for days by hiring the professionals at Serenity Moving Services to handle every aspect of your move in Oklahoma City.
Comprehensive Moving Solutions: That means you won't have to worry about packing and unpacking, loading and unloading, finding a moving truck, or picking up boxes, packing paper, or bubble wrap. And you won't have to clean up the used material once the move is done. We handle all of that.
If you're in Oklahoma City and facing an upcoming move, don't do it alone. Turn to our pros to help with at least part of the move so you can rest easy. Or hire us to take care of it all, and you relax knowing all aspects of your move will be handled professionally, on schedule, and with little stress, for you to deal with.
Hire The Best Movers In Oklahoma City, OK
If you're in Oklahoma City and looking for help with an upcoming move, or if you're in Oklahoma and need help moving to or from OKC, consider Serenity Movers, the best moving company in Oklahoma City for both short and long distance moving, to help with certain parts of your move or to handle the entire thing.
If you're interested, contact us today! We're ready to answer any questions and help when you need it.
Frequently Asked Questions (FAQs)
A single-room move costs around $147/ hr, while a four-room move costs around $288/hr in OKC. At Serenity Moving Services, we give the most affordable rates without compromising the quality of services. The cost of moving to OKC depends on the number of belongings, moving distance, the intensity of service required, and the specific service chosen.
Before hiring a moving service in OKC, you need to know whether they provide the exact moving service you're looking for and their experience level. Inquire about their license and insurance offerings. Also, ensure the employees are well-trained in moving with safety measures.
At Serenity Moving Services, you get moving insurance with our 'full-service' option. We also offer additional coverage options for those who like extra protection for their valuables.
Yes, Serenity Moving Services also provides installation services. You need not worry about moving, lifting, or dropping off your belongings with us. We'll install everything according to your preference at your new place.
We accept payment after the move. You must make a full payment after we unload your belongings. You can pay us by credit card, cash, or cheque.
As a full-service professional moving company with over a decade's experience, Serenity Moving Services is your best choice for moving in OKC. We ensure your move is stress-free by handling everything from start to end and providing great care and protection for your belongings.