If you're a commercial business in Oklahoma City, OK, and you're facing a potential move, we're here to help. Our local movers have a ton of experience relocating:
Law Firms
Schools and Universities
Business Offices
Government Offices
Industrial Spaces
Restaurants and other Hospitality Businesses
This list is by no means thorough, but it gives you a glimpse at our traditional clients. If your business falls into one of the above categories, or if it doesn't, but you still need help moving, contact us today. We'll be more than happy to listen to your needs, provide recommendations on what we can do for you, and give you a free quote right away.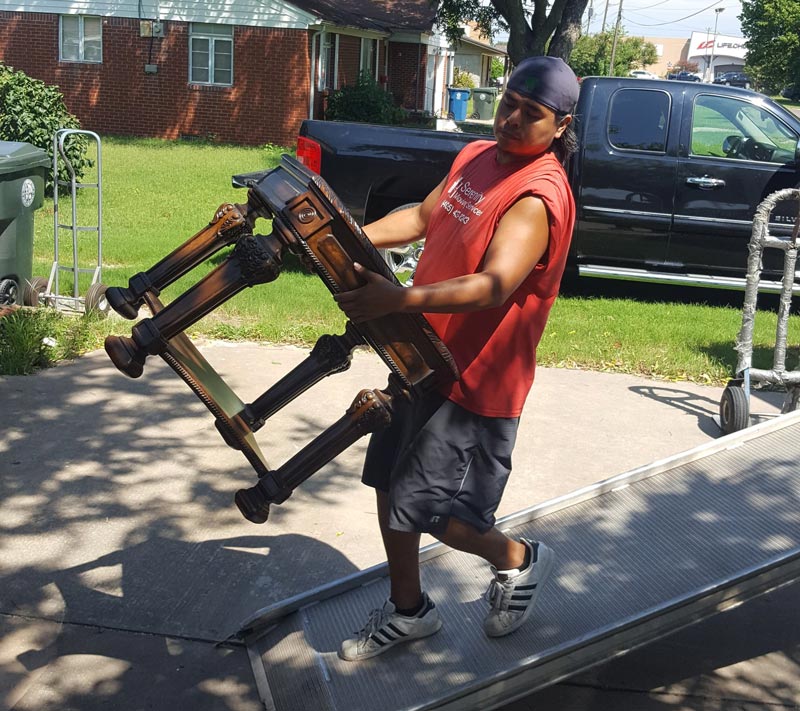 Our Full Service Commercial Moving Services In OKC Include
It's hard to capture all the services we can provide for our commercial clients in one handy snapshot. However, to give you a brief idea, our commercial moving services could include a moving plan tailored for you that includes some or all of the following:
Packing Services: You don't have to worry about boxes or packing materials. We'll bring everything we need to pack your property professionally with all due respect paid to protecting your item and minimizing wasted time during the entire moving process.
Loading Labor Service: You won't have to worry about loading, either. We'll have all the people and equipment necessary to safely handle all aspects of loading your stuff.
Transportation: Some people forget that packing the moving vehicles correctly is just as important as packing your items in boxes correctly. We go the extra mile to make sure your items are safe and secure during transit.
Unloading Service: We'll unpack the vehicles and put everything exactly where you want it at your new location.
Unpacking Service: Tell us where you want your items unpacked, set up, or reassembled, and we'll do the rest. We'll also haul away all the boxes and packing supplies once we're done.
Of course, all of this starts with a free quote and possible onsite assessment. Contact us, and we'll start the process of getting your commercial underway.
We Handle Critical Property and Equipment 
Part of ensuring the interruption to business operations is minimized is also taking seriously the movement of critical and expensive property that commercial entities rely on to make their daily business operations happen.
At Serenity Moving Services in Oklahoma City, OK, you'll find a moving company that treats your property and commercial equipment like it's vital to our own operations. The last thing we want is anything to happen to your property and equipment that will impact your business, and we make all efforts to ensure that doesn't happen.
For us at Serenity Moving Services in Oklahoma City, OK, we take the protection of your commercial property very seriously. In fact, it's what makes us stand out among other options you may have. We consider your property like it was our own throughout the move and treat it as such.
Why Should You Hire Professionals For Commercial Moves?
It would be unrealistic to expect a company to never move to a new location. A few legacy businesses may remain in one place for what may seem like forever, but often, a business simply needs to move. It could be for any number of reasons, but the fact remains that a move is required.
Like residential moves, commercial moves require a lot of work and help. There isn't much more difference between the two in terms of what goes into a commercial move as far as traditional items like packing/unpacking, loading/unloading, etc. However, there is one big difference, and that's the fact that when a business moves, often business is interrupted for a while.
The interruption in business operations is why commercial moves aren't frequent, but when they do happen, it's vitally important to make sure they go smoothly and efficiently to minimize business downtime while ensuring, once at the new location, business operations can return to normal as quickly as possible.
Other Moving Services We Provide
Serenity Moving Services is your answer to all of your moving needs in Oklahoma City, OK. Besides commercial moving, we can also provide:
Local Moving
Packing and Unpacking Service Only
Loading and Unloading Service Only
Gun Safe Moving
Piano Moving
On-Premise Moving
If you ever find yourself in need of help with a move outside of a commercial move, just know we're always ready to assist.
Contact The Best Commercial Moving Company in Oklahoma City, OK
Commercial moves are difficult and stressful. You need a partner who understands how to move commercial property and how important your property arrive undamaged and ready to be put back to work as soon as possible.
Serenity Moving Services will do its best to ensure your commercial move goes quickly and safely while making your transition to your new location as seamless as possible.
Who should you turn to in Oklahoma City, OK, for your commercial moving needs? Serenity Moving Services, of course. We have the experience and trained professionals ready to go. Contact us today!
Frequently Asked Questions (FAQs)
Yes, you can hire a commercial mover in Oklahoma City. As a professional moving company, Serenity Moving Services is your perfect choice for all your commercial moving needs.
You can hire a commercial mover in OKC with the following steps:
Seek recommendations from moving companies in your area.

Check customer reviews and ratings to understand their previous track record.

Get free price quotes from multiple service providers.

Ask about licensing and insurance.

Do a background check on their services.

Compare and decide accordingly.
For more information about Serenity Moving Services, contact us today for a free price quote. If you have any other concerns, we're ready to help.
The cost of hiring a commercial mover in OKC depends on multiple factors, like the complexity of the move, how far your new location is, and how many belongings you have. At Serenity Moving Services, our prices are competitive and affordable without any extra charges.
At Serenity Moving Services, we provide commercial moving services for industries like healthcare, education, hospitality, information technology, and more.
The best time to hire commercial movers depends on preferences. We are available all week from Sunday to Saturday. You can contact our team and book your moving slot on your preferred date.
By booking our service, we ensure that we handle everything from start to finish. There are no overtime charges. Upon completion of the move, you can pay us without any additional charges!