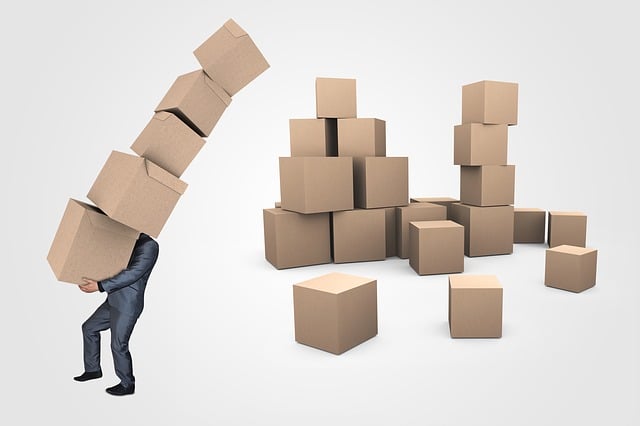 Moving boxes helps to arrange luggage, prevent damage, and protect the items undergoing freight. Boxes also save our items from environmental harm, such as heat or pressure, and address sanitary, cleanliness, and identification concerns. A standard moving box with different sizes helps to keep the design, shape, surface, and fragility of your belongings like glass or electronics.
So, it's very important for you to choose the right boxes during the long-distance or short-distance move. In this blog, moving experts at Serenity Moving Services will share 13 different types of moving boxes, which can save you from mishandling while packing and moving your things.
Different Kinds Of Moving Boxes For Any House Move
The kind of moving boxes for any house move vary in form, material, and surface, according to the needs of the items. The items' make, material, and surface characteristics differ from fragile to daily usage. You can create a moving checklist beforehand to make the move easier and simpler to package as well.
Small Cardboard Boxes (12-14 inches)
To pack tiny, delicate, and fragile items, it's best to choose small cardboard boxes that have proper insulation. Here are some examples of the items that a small cardboard box can accommodate–
Mugs
Perfume bottles
Small electronic items
Medium Cardboard Boxes (14-18 Inches)
Medium cardboard boxes provide a lot of utility for packing various items, from packing books to clothes and toys. The size, i.e., 14 to 18 inches, is good enough for medium cardboard boxes. These boxes usually come in sets.
Large Cardboard Boxes (18-24 Inches)
Large cardboard boxes are usually for heavy-duty items that need thermal and shock proofing utilities. These boxes are an easy and safe means to pack things. The way these boxes are made allows for their ease of use. They usually have flaps that can be rolled over and locked together to keep the items safe. They have a lot of space for labeling and marking, so movers can put the things in each box into groups.
Banker Boxes
Banker boxes are 10 inches tall, 12 inches wide, and 15 inches deep, which are their normal measurements. Banker boxes are mostly used to make organizing and storing documents easier. These boxes are manufactured from corrugated, durable, and lightweight cardboard. They are easy to put together because all you need to do is fold the cardboard into shape and glue the flaps in place. They include lids or flaps that can be folded and locked to facilitate stacking and keep the items safe from dust, moisture, and other hazards.
Boxes for Files And Documents
Similar to banker boxes, these boxes are small-sized boxes with A4 to letter-size pages and files but have reasonable height to contain many documents to place them one over another. Due to their taller dimensions, many files can be neatly arranged in an upright layout, making the best use of storage space while keeping things easy to find. This makes these boxes perfect for keeping lots of papers in a small, organized way.
Custom Crates
It would be best to use custom-made crates for things like kitchenware and electronics. They are moving boxes with dividers that keep electronic items from touching and protect them. Also, they have plenty of space for adding extra padding materials like shock-absorbing foam sheets or materials such as EPS (Expansible Polystyrene). The extra layer of protection ensures that your things will not be damaged by pressure or heat during moving.
Dish and Glass Boxes
Dish and glass boxes are a great option because they are carefully made to keep fragile dishes and glasses safe during transport. Specialized boxes like these are made with great care to protect fragile things. These boxes allow space between the fragile items kept in them because they have compartments and cells. In these boxes, the corrugated sheets provide resistance against grinding and shocks.
Flat-panel TV Boxes
Long, narrow cardboard boxes are used for electronic panel items like computer monitors and LED or LCD TVs. They can accommodate fragile items with packing foams and wrap around the items to absorb shocks.
Insulated Foam Containers
Use insulated foam containers to pack and move fragile items like china dishes and electronics items. The insulation provides resistance to shock, temperature, humidity, or water. The proofing, however, varies to different ratings.
Lamp Boxes, Mirror Cartons, and Picture Boxes
For packing items like lamps, mirrors, and pictures, select the boxes according to the length and breadth of the items. They provide insulation and shock resistance for the glass material, whether integrated or detachable to the item's design. These boxes are usually single-use boxes that safely secure the item for transportation.
 Plastic Bins and other storage Bins
There are many options, from boxes with removable lids to sealing boxes at affordable rates. These are multipurpose bins that contain assorted items. These bins are made of durable materials and come in a variety of sizes, colors, and styles. With their ability to be stacked, clear visibility, and flexibility, these bins make storing and finding things easier.
Wardrobe Boxes
These special boxes are a unique way to keep clothes in good shape and make packing and unpacking easier. As wardrobe boxes have a built-in hanging rod, you can easily move your clothes from the cupboard to the box. The smart feature of wardrobe boxes removes the hassle of folding, pressing, or reorganizing your clothes, keeping them in good shape and lowering the amount of work you must do after moving.
Wooden Crates
Use wooden packing boxes to transport edible materials, like fruits or vegetables. Wooden boxes are made to protect food items while they are being moved. Their solid construction protects fragile or heavy food items from outside effects, reducing the chance of getting damaged while shipping. They come in different sizes and shapes to meet different storage needs.
How Many Boxes You'll Need for Moving?
To help you decide how many boxes you will need for moving, we have laid out seven simple factors to consider–
Number Of Rooms
The first one is the number and the type of rooms you have. For example, three rooms will need more boxes than two. It's simple math. The second aspect is that a kitchen will require more boxes than a bathroom.
Members Of Family
More people, more boxes. But think of it this way – more helping hands for packing also.
Number Of Years Spent Living In The Place
Stuff and belongings tend to accumulate over time. Naturally, the longer you have stayed in the place, you will have more stuff. So packing more boxes will be required.
Size Of The Home
The bigger the house, the more boxes you will need. Hence, we can safely say that it might be one of the most important factors.
Lifestyle Choices
It is also important to know yourself and your preferences. Whether you are a minimalist type or you are one who is the sentimental type and likes to hold on to stuff. It will surely impact the number of boxes you need to plan for.
Level Of Pre-move and Decluttering
Some people make a plan and get rid of the stuff they don't plan on taking along. They may opt for a garage sale or a donation, etc. Whatever you choose, planning ahead can help you greatly.
Packing Calculator
The packing calculator is a great app to help you to figure out everything. You simply need to feed in the number of bedrooms in your house, punch in your lifestyle preferences, i.e., minimalist or otherwise, no of people living in the house to include older people, packing preferences such as basic or professional, press calculate, and leave the rest to the packing calculator. It will come up with the magic number of boxes and their sizes and dimensions.
Here's the rough estimations of the number of boxes that you might need based on your home area–
Home Area

Small boxes

(12"x9"x12.5")

Medium boxes

(18"x18"x16")

Large boxes

(18"x18"x24")

Extra large boxes

(24"x18"x24")

< 700 sq. feet
10
9
5
2
Up to 900 sq. feet
15
13
7
3
Up to 1,200 sq. feet
22
20
10
6
Up to 1,600 sq. feet
32
30
15
10
Up to 2,000 sq. feet
40
35
20
13
Up to 2,500 sq. feet
45
40
25
16
Where To Get Boxes For Moving?
There are several options to buy moving boxes per your need, and they are now widely accessible online and in nearby stores, especially packaging malls. You can find moving boxes of various sizes with universal sizes. You also have an option to get the used boxes from stores that usually discard them. Popular standard-size moving boxes are available at U-Haul Box Exchange, Craigslist, Freecycle Network, and Facebook marketplaces.
Here's what different types of boxes will cost you–
| | |
| --- | --- |
| Type of Boxes | Cost ($) Per Box  |
| Small moving boxes | $2.50 each |
| Medium moving boxes | $3.57 each |
| Large moving boxes | $4.67 each |
| Extra-large moving boxes | $6.08 each |
| Wardrobe moving boxes | $23.34 each |
| Picture boxes | $10 each |
At Serenity Moving Services, we offer our customers packing supplies and customized packing materials, which can be ordered easily.
Best Size Moving Boxes For Different Items
The best moving boxes for different items are small, medium, large, and extra-large boxes of 1.5, 3.0, 4.5, and 6.0 cubic feet. Here's a rundown of what different items you can put on these standard moving boxes–
Small Box (1.5 cubic feet) – It is a general all-purpose moving box that can hold up to 65 lbs at most. You can put canned goods or heavy tools.
Medium Box (3.0 cubic feet) – You can put small kitchen appliances, lamp bases, small outdoor tools, pots and pans, and electronic gadgets.
Large Box (4.5 cubic feet) – This box is great for non-hanging clothes, larger lamp bases, lampshades, linens, non-breakable kitchen (Tupperware), and children's toys.
XL Box (6.0 cubic feet) – You can put your lightest items to the bulkiest ones, like winter coats, stuffed toys, blankets, pillows, and area rugs.
Determining What Size Moving Boxes You Need
To analyze what different sizes of boxes you need, you need to figure out what types of boxes are available in stores, their capacity, and the amount of weight they can hold. If you under-utilize the box, it will increase the cost of the boxes. Similarly, if you over-pack it, the risk of getting the box damaged while traveling is high. On top of that, it can also result in damage to your belongings.
Here is the summarized chart of commonly used standard boxes available in the market, along with their capacity and estimated weight range–
Home Area
Small boxes

(12"x9"x12.5")

Medium boxes

(18"x18"x16")

Large boxes

(18"x18"x24")

Extra large boxes

(24"x18"x24")

Avg. capacity of Boxes
0.5 cubic feet
3.0 cubic feet
4.5 cubic feet
6.0 cubic feet
Est. weight range
25 kg
29.5 Kg
29.5 Kg
29.5 Kg
Furthermore, the following tips can guide you better to determine what size of boxes are required–
Tip 1: Start by making a complete list of everything you own. Group things by type (like clothes, books, and food supplies) to get an idea of how much space you need to pack.
Tip 2: Sort your things into groups based on how fragile, heavy, or big they are. It will help you decide which size of boxes to use for which kind of things.
Tip 3: Estimate how many things you have in each group and determine how many boxes you need.
Tip 4: Fragile things need more care. Choose smaller boxes for fragile items so that you do not pack them, and so they have enough padding.
Tip 5: The number and size of boxes you need are also directly related to the number of rooms in your present home. Remember that different places (kitchen, bedroom, bathroom, etc.) require different types of packing. So, select the type of boxes accordingly. For example, for hanging clothes, use wardrobe boxes instead of simple ones as they will result in the use of more boxes and won't be cost-effective.
Tip 6: Most of the time, a house with more people needs more boxes depending on the needs of each individual. Thus, the size of boxes can be determined based on every individual's needs at home.
Conclusion
Picking the correct moving boxes in terms of size and shape is crucial for hassle-free relocation. You must properly secure your belongings with the wide variety of boxes available, ranging from simple cardboard boxes for sensitive objects to specialized crates for electronics. While figuring out the number and sizes of boxes you might need for your move, take three factors into account – the fragility, size, and amount of goods (in addition to the specific requirements of each space). But if the process is overwhelming for you, we, Serenity Moving Services, are here to help! With 11+ years of experience and expertise, we offer efficient and cost-effective packing services in Oklahoma to make your move easier and faster.
Want different types of moving boxes with packing solutions in OK? – Call Serenity Moving Services today!