Moving is one of the most stressful (physically and emotionally) things that you will do in your life. To be precise, you will experience 55% stress and 48% anxiety during the move. And since you need to prepare yourself financially, pack your stuff, sort it, and move it physically, it is bound to get overwhelming.
So, whether you are moving to a new home or office, we, Serenity Moving Services, are a reliable full-service moving company in Oklahoma. We provide you with a comprehensive range of services like packing service, disassembly/assembly, loading/unloading, and storage solutions. Want to ease your residential or commercial move and local move or long-distance moving? Contact Serenity Moving Services today to schedule your free moving quote. Our professional will come on-site to create a personalized full-service moving plan for you!
Complete Full-Service Moving Company In Oklahoma
Serenity Moving Services is the solution to all of your moving needs throughout Oklahoma. As a professional full-service moving company, we'll handle everything from the beginning of a move till the end. If you're concerned about packing, loading, unloading, and unpacking, don't be. We handle it all and do it with the care and protection you should expect from a moving company.
Local Moving – Our professional local movers handle your belongings, from furniture to antiques, with the utmost care, whether you're moving next door or across town in OKC.
Loading and Unloading – Trust our expert team to load and unload your belongings by securing your valuables and protecting them during transit. 
Packing and Unpacking – Allow us to take care of the packing/unpacking of your belongings during the move so you can focus on other things regarding your new home or office.
Commercial Moving –

Relocating your business? Serenity Moving Services will help you minimize downtime and disruption to your business operations with our efficient commercial moving services.

Gun Safe Moving – We always stay equipped to handle heavy items like gun safes. Our experienced team of professionals will move your gun safely, securely, and responsibly. 
Piano Moving –

You don't have to

risk your precious piano! We offer long-distance or short-distance piano moving services. Our expert piano movers have all of the necessary tools to move your piano safely and securely.
On-Premise Moving –

We also help you to rearrange furniture or move items within your home or office. Our on-premise moving service is designed to make the process easy and efficient.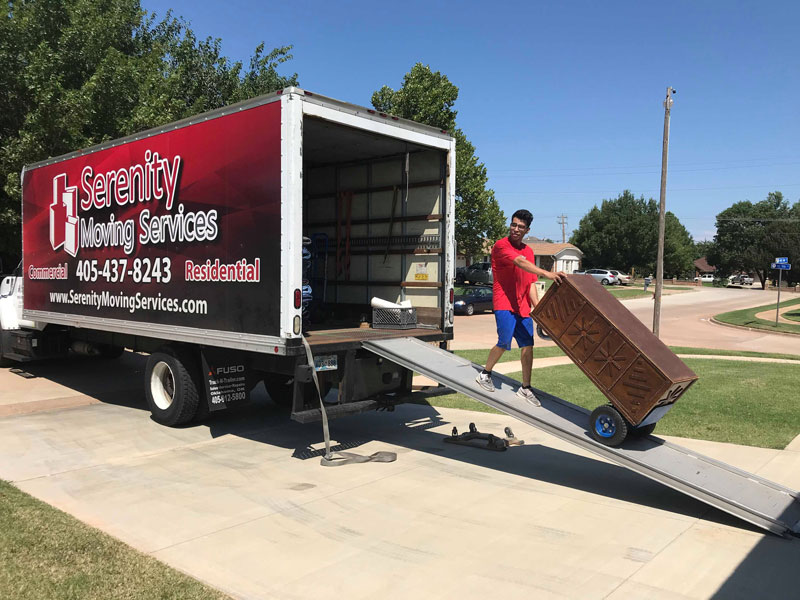 Our Range Of Moving Services In OK
There's no denying the fact that tackling any kind of move is stressful. Uprooting your home or business and moving locally or long-distance is itself, a major life change. If you know you don't have the time or patience, or you're in a place that prevents you from physically moving on your own, you should trust the professionals at Serenity Moving Services to handle your full-service moving needs. Our commercial moving services in Oklahoma include:
Full-Service Moving

Local Moving

Loading and Unloading

Packing and Unpacking

Commercial Moving

Gun Safe Moving

Piano Moving

On-Premise Moving
If that's not enough, we've also got the right equipment and supplies, professional know-how, and we're extremely good at what we do.
What Is Included In A Full-Service Move?
When we say "full-service," we mean absolute full service that doesn't require any work on your part other than answering some questions from time to time.
Sounds great, right?
Sure, but besides packing, unpacking, loading, and unloading, what else does a full-service move entail?
Well, here's a taste of what you can expect:
Packing supplies. If you choose us for your packing needs, and once we have a good idea how big of a move is involved, we'll bring all the appropriate packing supplies necessary to ensure all your items are packed and moved correctly. This includes boxes, packing paper, and bubble wrap. We'll have it ready.
Packing knowledge. We won't just pack, we'll pack correctly. It's easy to put items in boxes, but doing it the right way actually requires some training. Our team are all well trained in how to pack a full range of items, including anything fragile, and know when to use a box and when something more rugged like a crate is necessary. We also keep an accurate inventory of everything that goes in each box.
Disassembly and reassembly of bulk items. If disassembly of an item like a bookshelf is required, we'll do it correctly, maintain positive control of all the parts and pieces, and reassemble at the new destination.
Loading, Transport, and Unloading. You don't have to worry about lifting, moving, or dropping off anything. Not only that, but we'll put everything exactly where you want it at your new location.
Unpacking and removal of packing materials. Not only will we unpack your items and reassemble any we had to take apart, we'll also haul away all the empty boxes and other packing materials so you don't have to worry about added clean-up. A lot of people don't consider the clean-up portion when choosing whether to go with a full-service move, but most are usually surprised at how great it is when they don't have to worry about clean-up after the fact.
We Make Moving Easy: All Equipment Included In Full-Service Move
There is no denying the fact that tackling any kind of move, whether it's an on-premise move to a long-distance one, is a stressful event. But those can pale in comparison to the size and scope of a commercial move. While stressful, there are also considerations about how a move will impact your business that needs to be taken into account.
That's why Serenity Moving Services also ensures you have access to your equipment, inventory, and documents if needed during any relocation. At the very minimum, we'll do our best to make the move go as quickly as possible without sacrificing safety to help minimize downtime.
Commercial moves require professional movers who understand your property's importance to your business.
Why Choose Serenity Moving Services?
If you don't want to deal with any of the stress or the exhaustion of a move, then you should choose us for a full-service move. In fact, if you don't want to do any work at all, or if you're unable to due to a situation unique to you, you should consider a full-service move.
We Offer Comprehensive Services: If you do, there's a good chance the most work you'll end up doing is requesting our free quote and telling us where to unload and unpack your items at your new destination.
Professional Handling: You'll also be able to relax knowing your items are in good, professional hands.
A Range Of Benefits: With our full-service moving service, you'll receive all the benefits of our packing and unpacking service combined with our loading and transport expertise. From beginning to end, we take care of everything, even hauling all the old packing materials away once we're finished.
Availability – We're available to handle any moving needs. Just call us, and we'll be on our way!
Contact Full Service Moving Experts In Oklahoma
If you're in Oklahoma and looking for a full-service moving company, choose us. We treat your property like it's ours, with care, respect, and attention to detail throughout the moving process. Let us handle the stress and anxiety of your next move so you don't have to. Lastly, our team of tenured professionals is also licensed and insured. Not to mention we're always on time and good at what we do. Contact us today for a free quote or if you'd like more information!
Frequently Asked Questions (FAQs)
A full-service commercial mover is a professional team that can handle the entire moving process from start to finish. This service includes packing and loading your things, making sure they are safe and protected while in transit, unloading everything at your new place, and unpacking your things. We have over 10 years of experience in the industry, so you can rest easy knowing your belongings will arrive safe and sound every time.
Serenity Moving Services in Oklahoma is a full-service commercial moving company that helps with packing, loading, unloading, and transporting. Our experienced team can assist with furniture disassembly and reassembly, office equipment set-up, and specialized handling for fragile items. We do moves from door to door, using the latest technology to make sure your move goes quickly and smoothly.
Serenity Moving Services offers competitively priced full-service commercial moving services in Oklahoma. Our professional movers will ensure your commercial move is stress-free and hassle-free. Prices vary based on the size and complexity of the movement, but we have affordable rates with no hidden fees or charges.
When looking for a full-service mover, ensure they have experience in the type of move you need. Ensure they offer packing, loading, and unloading services. Ask if their employees are background-checked and trained in safe moving practices. Lastly, ensure the company is licensed and insured for any potential damages.
Yes, full-service movers provide insurance for customers' belongings. All of our movers in Serenity Moving Services are insured and licensed to ensure the safe transportation of your belongings. We also offer additional coverage options for those who desire extra protection for their valuable items.
Our policy as a mover requires payment after the move. We believe in making the payment process convenient and secure for customers. We accept cash, check, and credit card payments. You must make all payments after unloading the truck at the destination address.
Ultimately, the best day to rent or hire a moving truck in Oklahoma depends on your needs and preferences, but we recommend a weekday. Serenity Moving Services are available from Sunday to Saturday all week. However, contacting the company in advance is important to check availability and secure a reservation for a specific day. This reservation can help ensure you get the preferred truck size necessary to complete your move.
Avoiding weekends will help you take advantage of lower rates and limited traffic. We recommend booking your truck at least two weeks in advance to secure the most affordable rate while ensuring availability during peak times.