Gun Safe Moving Services OK
Serenity Moving Services is the solution to all of your moving problems throughout Oklahoma, especially if you've got a big heavy Gunsafe that needs to be relocated and you can't do it on your own. We'll handle it and anything else you may have that needs to be moved, even the family piano, and we'll do it with the professionalism and expertise our company is known for.
Our moving services include:
Full Service Moving

Local Moving

Loading and Unloading

Packing and Unpacking

Commercial Moving

Gun Safe Moving

Piano Moving

On Premise Moving
As a professional moving company, we have a lot of experience moving everything from large individual items, like gun safes, to moving whole commercial businesses. We have the knowledge, skilled labor, and equipment to make any relocation smooth, efficient, and stress-free for you.
If that's not enough, we're extremely good at what we do. But we understand if you would like some more details on what exactly our professional Gunsafe movers provide, so you know exactly what to expect.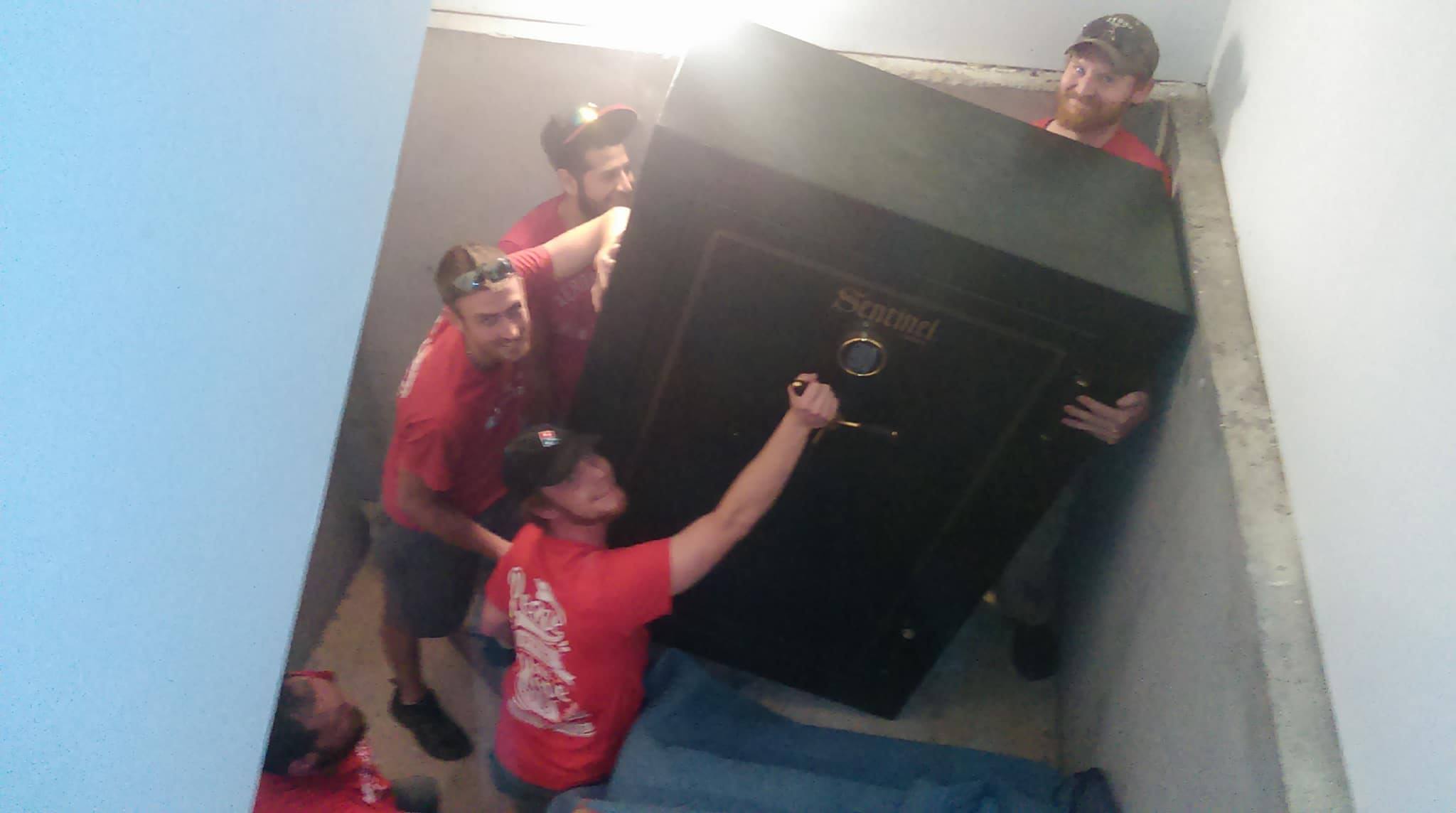 Specialized Gun Safe Moving & Reallocation
The last thing we want to do is hit you with any legal disclaimers before we get into the details on why we're the best choice for moving your gunsafe safely and securely. After all, we believe in the principle of peace of mind, one move at a time. The best way to ensure that peace of mind is by handling your property in the most proper and professional way from beginning to end. It's part of what makes us the best at what we do. We specialize in gunsafe moving and reallocation and ensure safe delivery of your property.
What also makes us the best at what we do is following the rules. And one of the hard and fast rules we adhere to when it comes to moving gunsafes is ensuring no guns or ammunition are in the gunsafe during the move. In addition, as the owner, you're responsible for the transportation of your firearms and ammunition. We're strictly in the business of moving your gunsafe.
Now that that's out of the way, let's get back to the details you came here to learn about.
Big Expensive Property
It goes without saying that every person's property should be treated with the care and respect it deserves. For us at Serenity Moving Services throughout our locations in Oklahoma, we take this obligation very seriously. In fact, it's what makes us stand out among other options you may have. We can't emphasize enough that we treat your property like it's our own throughout the move.
This is especially true when it comes to moving expensive property. With a gunsafe, we're also dealing with a good deal of weight and bulk that demands an excessive amount of control and attention to detail that ensures the gunsafe remains undamaged but also doesn't damage anything else through negligence.
Because a gunsafe is large, bulky, and heavy, it requires extra labor, planning, care and consideration. Special equipment is needed. That doesn't change the fact that you also need professionals who know how to use that equipment.
The movement of expensive property like a gunsafe requires patience, attention to detail, and know-how. It doesn't only involve consideration of the gunsafe but also understanding the size of the spaces it's moving in and out of and how to maneuver it properly. It also requires special consideration for transport and security during transit. Our team will have all these aspects covered for the duration of the moving process.
A Unique Operation
Once you decide Serenity Moving Solutions is your choice for handling your gunsafe move, we'll launch right away into preparing everything we'll need for the shipment. That includes a detailed plan for packing and protecting the gunsafe during removal from the current location, identifying any special equipment we'll need for loading and unloading, and a detailed plan for delivery at the new location.
Specifics include:
Packing materials. We'll bring all the appropriate packing supplies necessary to ensure your gun safe is protected and moved correctly. This includes appropriate blankets and wrapping and possibly even palletizing material. We'll have it ready.
Special equipment. This includes special dollies and hand trucks, lifting straps, tie-downs, boards, ramps, and hoists if needed.
Loading, Transport, and Unloading. Our gunsafe movers understand, through training and experience, that gunsafes aren't the lightest items in the world. That being said, you won't have to worry about any lifting, transporting, or maneuvering. That's our job. You just need to tell us where you want it.
Unpacking and removal of packing materials. Not only will we unpack your gunsafe, we'll also haul away all the used packing materials so you don't have to worry about added clean-up.
The Best Gun Safe Movers in Oklahoma
There is no denying the fact that tackling any kind of move is a stressful event. Heck, rearranging your home can be stressful. If you have to move a big heavy gunsafe across town or across the state, you might start feeling anxiety just wondering how you can get it done.
Don't worry. Serenity Moving Services and our gunsafe movers are the answers to your moving needs.
If you're in Oklahoma and in need of gunsafe moving services, contact us today! We can answer any questions you may have and provide a free quote right away.