It has taken almost all of your life to collect the things that you have at home or office. That's why when you are relocating somewhere inside the city within a radius of 50 miles, you cannot trust just anyone with your belongings. Local moves are often underestimated. Just because a move is local doesn't make it any less hard or stressful. Yes, the move may only be up a few flights within an apartment complex, or into a bigger house down the street, or, if you're a business, into a new commercial property across town. Even though the move is local, it doesn't change the fact it's still a move.
We, Serenity Moving Services, know how to handle your belongings – with care and attention! Despite the distance, our local moving services in Oklahoma cater to all your moving needs, from packing, loading, transporting, unloading, and unpacking. For every residential or commercial move, our local movers in Oklahoma can professionally handle any situation and get the moving job right the first time. Call us today!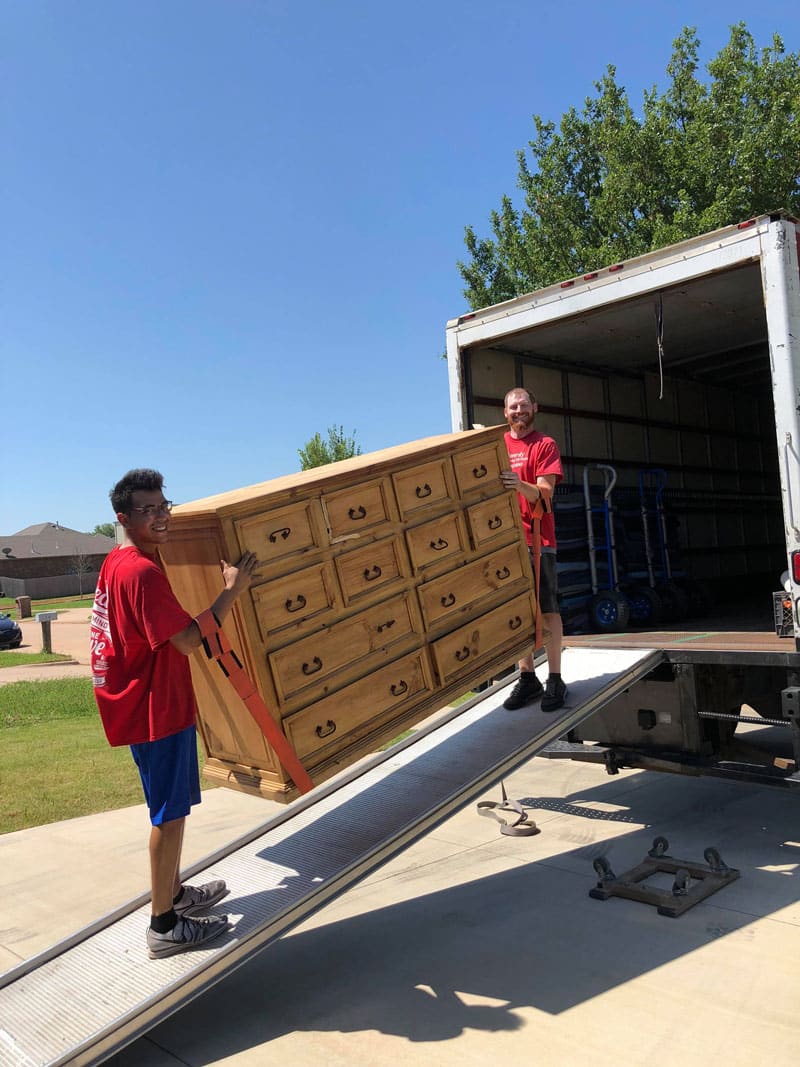 Our Local Packing & Moving Services In Oklahoma Include
Serenity Moving Services is your answer to all of your local moving in our Oklahoma service locations.
As a full-service, professional moving company, we can handle everything from the beginning of a move to the end or specific items you don't want to handle on your own. If you're concerned about packing & unpacking or loading & unloading, don't be. If you only need help with moving a big heavy item like a piano or gun safe, we've got you covered. We can handle it all, and we do it with the care and protection you should expect from a moving company.
Our moving services in Oklahoma include:
Full-Service Moving – Let our experienced team take care of every aspect of your local move, such as packing, loading, transporting, unloading, unpacking, and reassembling. Sit back, relax, and let our full service moving handle everything!
Local Moving –

We specialize in local moving for both residents and businesses within the Oklahoma state. Our reliable and efficient services will ensure a smooth transition to your new location.

Loading and Unloading – Count on our team to expertly load and unload your items, ensuring their safety throughout this short-distance move.  
Packing and Unpacking – Save time and stress by allowing our professionals to pack and unpack your belongings with care.  
Commercial Moving –

Rely on our intrastate moving expertise in managing office relocations with no disruption to your business operations.  

Gun Safe Moving – Benefit from our specialized equipment and skills required for moving heavy and delicate gun safes. 
Piano Moving – Ensure your prized piano gets transported safely inside the OK and securely with our dedicated piano moving service.  
On-Premise Moving –

If you need assistance with moving furniture or large items within your property, we've got you covered!
If that's not enough, we've also got the right equipment and supplies, professional know-how, and we're extremely good at what we do.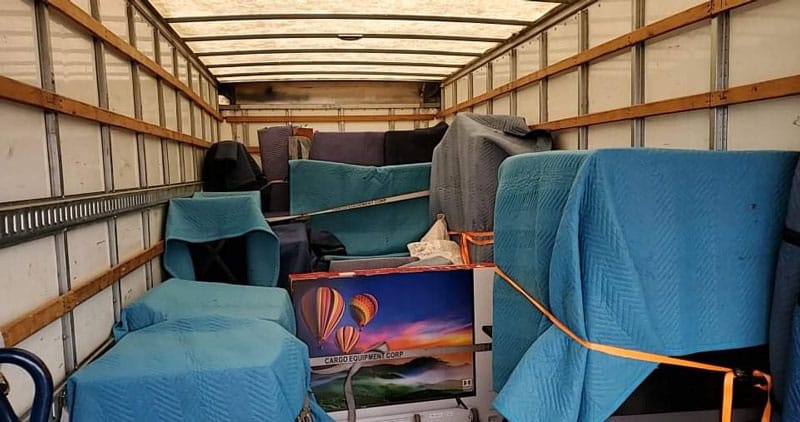 Local Moving For Commercial Businesses In OK
Moving your business from one location to another is – simply put – a headache. 
Let Serenity Moving Services handle all the logistics with our comprehensive commercial moving services. With over 10 years of experience, our dedicated team can handle packing, unpacking, loading, unloading, and transporting your commercial move, no matter the size or complexity of your business. 
Our team will provide the necessary care and attention, from organizing the process to packing and transporting your valuable assets. Here are the key benefits of our local moving services for commercial businesses in Oklahoma–
Customized moving plans tailored to your specific business needs

Professional packing and installation of workstations, cubicles, and equipment

Specialized transportation services for delicate or sensitive items

Coordination with building management or facility teams for a smooth move-in

Minimal business disruption, ensuring a seamless transition to your new location
Not only this, our movers in OK will also guarantee–
Itemized-based rates for local moves

$0 cancellation fees

$0 deposits
A great service doesn't require massive financial commitment. So, for any size of local commercial move, we charge affordable prices in OK! On top of that, we have an active license (USDOT number–2439364) in FMCSA (Federal Motor Carrier Safety Administration). 
These are some commercial businesses that we've helped with our intrastate moving services in Oklahoma–
Business Offices

Government Offices

Industrial Spaces

Schools and Universities

Restaurants and other Hospitality Businesses

Law Firms
Don't let moving your business stress you out. Trust Serenity Moving Services to make it an efficient and stress-free experience. Call us today!
Why Should You Consider Serenity's Local Moving Services?
If you've ever moved before, you know how stressful it can be. You also know it's far from fun.
All Aspects Of Moving Professionally Handled: Maybe there's one aspect of a move you dread more than others. For some, it's packing and unpacking. For others, it's loading and unloading. Or maybe it's all of them. In other circumstances, you may not have the time or manpower to handle all aspects of the move yourself. This can be especially true for commercial moves that can't risk much downtime or being separated from inventory for very long.
Tailored Moving Services For Your Needs: With Serenity Movings Services, we can handle individual aspects of your move or all of them. If time is a big factor, we can either handle the move more swiftly or tailor aspects of the move that ensure certain benchmarks are made in accordance with your timeline requirements.
Seamless and Stress-Free Moving: The larger point is, again, we'll work with you to tailor a local moving plan that satisfies all your needs and also ensures your move is seamless and as stress-free as possible.
Budget-Friendly Move: That's why we work with each of our clients to tailor their local move to meet their specific needs while considering budgetary concerns. Maybe you only need to get a piano across town. Then again, maybe you need to relocate an entire 60-office business. Yes, one move sounds more extreme than the other. That doesn't change the fact that both moves demand specific care and attention to detail to make each one successful.
Hire Local Movers In Oklahoma
Want to hire local movers in Oklahoma? – Call Serenity Moving Services at (405) 437-8243. Why? – Well, we know every ins and outs of the Oklahoma streets, neighborhoods, and traffic patterns. That's why we can 100% ensure a smooth and efficient move. As a local business, we give more value to punctuality and quality service. So, for every local move in Oklahoma, trust Serenity Moving Services because we can work around your schedule and make your commercial or residential move convenient and hassle-free. Contact us today!
Frequently Asked Questions (FAQs)
Serenity Moving Services offers various local moving services, such as packing and unpacking, loading and unloading the truck, putting together and taking apart furniture, storing items temporarily, protecting furniture with blankets and shrink wrap, and providing full-service transportation. The service also includes debris pickup after the move is complete.
On average, most local moves in Oklahoma involve 2–3 movers and will range from $400–$700, depending on the size of the move. The cost of a local moving service in Oklahoma can vary depending on the size and type of move. Generally, a basic move within the same city can start at around $200 and increase from there. Extra services such as packing and unpacking, furniture disassembly/reassembly, and heavy item handling can add to the overall cost.
Yes, local moving services provide packing and unpacking services. At Serenity Moving Services, we offer a variety of full-service packing and unpacking options to make sure our customers get the best service possible. Our experienced movers will take special care to properly protect fragile items and ensure that each item is carefully transported and handled during the move. Our team can also make boxes and packing materials just for you to make your move easier.
Yes, you can hire Serenity Moving Services for a long-distance move. We specialize in local and long-distance moves in Oklahoma and the surrounding area, so we are experienced and equipped to handle your move. Our team of experienced professionals can provide all the necessary supplies, packing materials, and transport vehicles to ensure that your belongings arrive safe and secure at their destination.
When hiring a professional local moving service in Oklahoma, you should look for a company that is experienced in the area and has a good track record of providing quality services. Additionally, make sure to inquire about the extent of their coverage area as well as their availability for last-minute moves. Last, make sure you choose the right service by reading reviews or asking friends and family for suggestions.
Yes, local moving companies like Serenity Moving Services are licensed and insured. All of our movers are certified, experienced professionals who carry the necessary licenses and insurance needed to protect your belongings from accidental damage or loss. We also carry comprehensive liability insurance in order to provide peace of mind for clients during their move. Our insurance policies ensure that, should anything happen to your property while it is being handled by our team, they will be covered; in accordance with state and federal law.
Yes, there may be additional fees or charges when using a local moving service in Oklahoma. Depending on the distance, size of the move and any special services required, additional charges could include a stair fee, packing services fee or even a long-haul charge. It's best to consult with your local moving company to get an accurate estimate of all potential additional fees or charges associated with your move.
In the unlikely event that damage does occur, our liability coverage covers a certain amount as per the item based on weight and or its value, so you can rest assured that your items will be adequately protected. At Serenity Moving Services, we take the utmost care in protecting your belongings during a local move. Our movers are trained and have a lot of experience, so you can trust them to be careful with your things. We also provide blankets and shrink wrap to protect furniture and other fragile items.