Serenity Moving Services is your answer to all of your moving needs throughout Oklahoma. We handle it all, even the family piano, and we do it with the care and protection you should expect from a moving company. As a full-service, professional moving company, we handle everything you've requested on your move. As you can see, besides full-service moves, we also handle specialty moves like those involving gun safes and, in your case, pianos.
If that's not enough, we've also got the right equipment and supplies, professional know-how, and we're extremely good at what we do. But we understand if you would like more details on what our professional piano movers provide so you know exactly what to expect.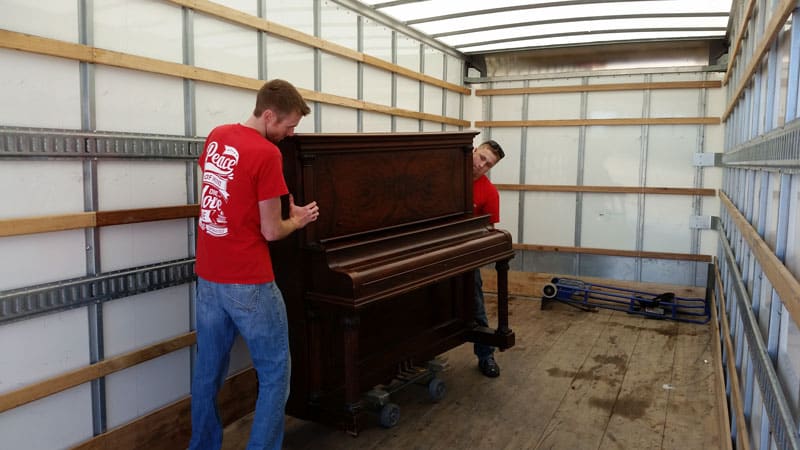 The Best Piano Movers: Your Piano Handled With Care
It goes without saying that every person's property should be treated with the care and respect they deserve. For us at Serenity Moving Services throughout our locations in Oklahoma, we take this obligation very seriously. In fact, it's what makes us stand out among other options you may have. We treat your property like it was our own throughout the move.
When it comes to moving, this becomes especially true for expensive property that isn't just expensive but also bulky, for lack of a better word. But bulky doesn't equal rugged. No, with something like a piano, you get the combination of bulky and fragile rolled into one. Because a piano is bigger, bulkier, and fragile, it requires extra planning, care, and consideration. Special equipment is often needed. That doesn't change the fact that you also need professionals who know how to use that equipment.
The movement of expensive property like a piano requires patience, attention to detail, and know-how. It doesn't only involve consideration of the piano but also understanding the size of the spaces it's moving in and out of and how to maneuver it properly.
Our moving services include:
Commercial Moving

Piano Moving

On-Premise Moving
Our Professional Piano Moving Services Include
Once you decide Serenity Moving Solutions is your choice for handling your piano move, we'll launch right away into preparing everything we'll need for the shipment. That includes a detailed plan for packing and protecting the piano during removal from the current location, identifying any special equipment we'll need for loading and unloading the piano, and a detailed plan for delivery at the new location.
Specifics include:
Packing Materials: We'll bring all the appropriate packing supplies necessary to ensure your piano is protected and moved correctly. This includes appropriate blankets and wrapping. We'll have it ready.
Special Equipment: This includes special dollies and hand trucks, lifting straps, tie-downs, boards, ramps, and hoists if needed.
Loading, Transport, and Unloading: Our piano movers understand, through training and experience, that pianos aren't the lightest items in the world. Besides being heavy, they're also fragile and require strength and finesse to move them appropriately without risking damage. That being said, you won't have to worry about any lifting, transporting, or maneuvering your piano. That's our job. You just need to tell us where you want it.
Unpacking and Removal Of Packing Materials: Not only will we unpack your piano and reassemble anything we had to take apart, we'll also haul away all the used packing materials so you don't have to worry about added clean-up. A lot of people don't consider the clean-up portion when choosing whether to go with a piano mover, but most are usually surprised at how great it is when they don't have to worry about clean-up after the fact and can simply enjoy their piano in their new place.

Types Of Pianos We Specialize In Moving
If you're wondering if we can move your specific piano, here's a list of the types of pianos we have a ton of experience with handling and transporting securely and correctly:
Baby Grand Piano
Grand Piano
Upright Piano
Electric Piano
Player Piano
Spinet Piano
Organs
Moving a Baby Grand Piano can be a tedious task, especially over a long distance. Serenity Moving Services offers professional baby grand piano movers for safe delivery.
Contact Us For Safe & Secure Piano Moving Services In Oklahoma
There is no denying the fact that tackling any kind of move is a stressful event. Even rearranging a living room can be stressful. Now take into consideration moving a piano across your home or to a new residence across town. You might start feeling anxiety just wondering how you can get it done. Don't worry; Serenity Moving Services and our piano movers are the answers to your piano moving needs.
If you're in Oklahoma and looking for a moving company that specializes in moving pianos, choose us.  Lastly, our team of tenured professionals is also licensed and insured. Not to mention we're always on time and good at what we do.
If you're in need of piano moving services in Oklahoma, contact us today! We can answer any questions you may have and provide a free quote right away.
Frequently Asked Questions (FAQs)
On average, local piano moving in Oklahoma can charge between $1.50 and $2.50 per mile  for short-distance moves. The cost of moving a piano locally in Oklahoma will depend on the distance to be traveled and the size of the piano. For example, if the piano is located in an upper floor, it may require additional personnel or equipment which would add to the price. To get an accurate estimate for your move, it's best to contact a professional moving company such as Serenity Moving Services and discuss your unique needs with one of our experienced staff members.
The process of moving a piano usually involves packing the piano in specialized padding and covers, lifting it onto a dolly, driving it to the destination, carefully maneuvering it into the building, and finally positioning it in its new spot. It typically takes 1-5 hours to move a piano, depending on the travel distance.
A piano moving service includes the packing and transportation of your piano, as well as any necessary tools and equipment such as blankets, straps, and dollies. Depending on the size of the piano and location of the move, we may also include professional piano tuners to ensure a safe journey for your instrument.
To move a piano from one place to another in Oklahoma, you need to hire someone with experience and the right tools. At Serenity Moving Services, our team of experienced professionals is an expert in moving pianos safely and securely. We have all the necessary tools, such as piano boards, heavy-duty straps, dollies, and protective padding, to ensure your piano moves quickly and safely. We also offer full-service packing, which means that our team can get your piano ready for transport so that it arrives in perfect shape.
Yes, moving companies provides insurance when moving a piano. When customers book a piano move with us, we provide them with liability protection options to cover the cost of any potential damages to the piano during the move. Our coverage also covers any other things that might get broken because of our services.
We at Serenity Moving Services can move various piano types, such as: Baby Grand Piano, Grand Piano, Upright Piano, Electric Piano, Player Piano, Spinet Piano, and Organs.
Yes, the piano will be insured when moving with Serenity Moving Services. Our experienced movers are highly trained in safely packing and transporting pianos, and we provide full insurance coverage for all piano moves. We handle all piano moves with precision and care, guaranteeing that your instrument arrives safely at its new home.