We often see people booking a moving truck or equipment to handle loading or unloading their belongings by themselves. At first, the task does look manageable, but once you start to do it, you will figure out that it's actually very time-consuming and physically demanding. So, If you are going through this right now, you've landed in the right place.
We, Serenity Moving Services, have a team of experienced professional movers who can easily and quickly jump into your location and save your moving day. Our loading and unloading services in Oklahoma comprise assessing and gathering the load, safely placing it inside the container or truck or pod, and unloading it at the destination. Whether you need to load heavy boxes, furniture, or other heavy appliances, our trustworthy loading and unloading movers will do it with 0 issues. Call us today n Oklahoma!
Our Loading & Unloading Services In Oklahoma
Not every move is exactly the same. To say they are is dishonest, and the professionals at Serenity Moving Services in Oklahoma are the last to make such a claim. Yes, commercial moves involve businesses, and residential moves involve relocating your household goods. But not every business is the same, nor is every home. Some movings may require a full service while others are good simply with loading and unloading labor services. Our services for any loading and unloading include the following:
Loading Service
Packing Assistance: Our movers will help you properly pack and secure your belongings into moving boxes or containers.
Loading: We will then load the packed items onto the moving truck or transport vehicle in an organized and secure manner, optimizing space and weight distribution.
Heavy Lifting: Movers are responsible for safely lifting and moving heavy furniture and appliances onto the vehicle. We even offer gun-safe moving services.
Furniture Padding and Protection: Our movers will professionally use padding and protective materials to prevent damage to any of your furniture and items during transit and unloading.
Unloading Service
Transportation To Unloading Location: Our movers will accompany your belongings to the destination, ensuring they arrive safely.
Unloading: At the destination, movies will then unload all the items from the vehicle and also place them in the designated spaces.
Basic Assembly: Our services also include reassembling the items that we move in basic cases where the items are possible to be reassembled.
Other things usually differ besides the type of move. Sometimes, a move needs to happen quickly and within a hard-set timeline. Other moves need to take longer and may involve heavy equipment and inventory movement.
That's right; whether it's residential moving or commercial moving, we offer loading labor services and unloading labor services that can save you additional costs that a full-service move would entail while also saving you from the back pain from doing it yourself.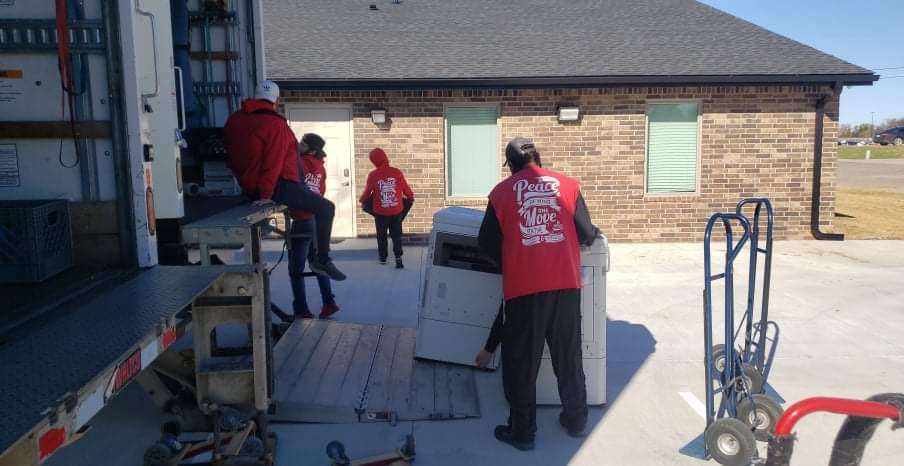 Why You Should Consider Our Loading and Unloading Labor Service
Many of these have been mentioned already, but here is a brief snapshot of the main reasons why you should consider hiring help for loading and unloading your household goods.
Physical Limitations
There's no hiding the fact that moving is physically challenging. It's not just moving the big heavy stuff. It's also lifting and moving box after box. If those boxes have items like books in them, you already know how heavy they can become. Our pros even understand how tiring loading and unloading can be. That's why they work as a team. When it comes to loading and unloading your stuff, let us handle your items for you so you can save your energy for the packing and unpacking.
Budget Concerns
Moving costs money. There's no way of avoiding spending some money, even if you do everything yourself. And we at Serenity Moving Services completely understand everyone has different budgets and specific choices need to be made about how your money is spent on your move. If you're looking to save some money while also saving your body from aches and pains, let our skilled and experienced team do the work while allowing you to save some money for the overall relocation.
Timing
Not every relocation happens all at once. There are plenty of times where people find themselves relocating because they have to move for work or other reasons and know they have to leave their current location relatively quickly. However, that doesn't always mean they have their new location lined up and ready to receive their stuff. In cases like this, a storage unit often needs to be employed during the relocation and transition process. When you're ready to move into your new place, we'll unload your storage unit. This allows you to find your new place without feeling rushed, knowing we'll be here for you when it's time to move in.
How Our Loading and Unloading Helps You Move
Our professional movers don't just transport your belongings – we offer full loading and unloading services, too! Serenity Moving Services makes your move stress-free, whether you're moving within Oklahoma or across the country. We cater to those who require assistance with just loading and unloading their belongings and don't need a full-service moving package. 
Here's what is so unique about our loading and unloading services–
Professional Assistance –

Save yourself from the heavy lifting. Our trained and experienced movers will handle your belongings with care.

Flexible Options –

Choose from loading only, unloading only, or both loading and unloading services, depending on your specific needs.

Wide Range Of Items –

We can handle everything from furniture and appliances to fragile belongings, ensuring their safe transportation to your new location.
Here's how we provide our loading and unloading services–
Schedule Your Move –

Just give us a call or fill out our online form to get a free quote and schedule loading and unloading services based on your unique needs.

Expert Loading –

Our professional movers will carefully load your items, ensuring that they fit together and are secure throughout the entire moving process.

Efficient Unloading –

Our next team will unload all of your items without dropping them.

Final Inspection and Review –

We'll do a final walk-through to make sure that all of your belongings have arrived at the destination.
Call Serenity Moving Services today for loading and unloading services in OK. Our service will save you time from unnecessary hassles, and for that, you only need to pay a reasonable price with no hidden fees or extra charges. 
If You're Interested In Packing and Other Moving Services
Serenity Moving Services is your answer to all your moving needs throughout Oklahoma. Our services include:
Loading and Unloading

Commercial Moving

On-Premise Moving
Contact Serenity Moving Services For Loading & Unloading Move In OK
Safety is the most important thing during relocation. Our trained and experienced team can safely load and unload all your belongings. So, if you want to make your move a seamless experience, call Serenity Moving Services today at (405) 437-8243! Our committed crew will provide you with the best loading and unloading services in Oklahoma. Request a Free Personalized Quote today!
Frequently Asked Questions (FAQs)
A loading and unloading service can load a truck with various items, including furniture, appliances, boxes, crates, and other household items. We can also safely handle specialty items like gun safes that require additional care when transported. We at Serenity Moving Services are an ideal solution for those looking to quickly and efficiently move their belongings from one place to another without worrying about packing and unpacking everything.
If you need help loading and unloading a truck, Serenity Moving Services has experienced movers with the training and special tools they need to ensure your things are moved safely and quickly. We have dollies, hand trucks, lifting straps, tie-downs, boards, ramps, and hoists available to accommodate any size or weight of item. Our team also knows how to carefully unpack everything in the truck and get rid of all the packing materials in a way that doesn't hurt the environment.
Yes, loading and unloading services can also provide special equipment or tools for heavier or bigger items. We have years of experience handling all kinds of bulky objects, from furniture to appliances. Our professional movers will ensure your things are loaded safely and securely by using the right lifting techniques and tools. We also offer a variety of storage solutions to accommodate items of any size, making it easy for you to store your valuables during transit.
Yes, you can choose between loading or unloading services with our professional loading and unloading services. We know that customers may not always need both services. That's why we offer flexible solutions that are made to fit your needs. All of our staff is trained and has the knowledge and tools to handle any kind of loading or unloading quickly, safely, and effectively.
Yes, a loading service can help with packing and wrapping items before loading or unloading them from a truck. At Serenity Moving Services, we have trained professionals who use the best packing materials to keep your things safe while they are being moved. We also use high-quality wrapping material and techniques to make sure that your items are safe and secure while they are being loaded and unloaded. In addition, we provide customized solutions to meet all of your moving needs.
Yes, Serenity Moving Services in Oklahoma is fully insured to load and unload your things. Our experienced and certified moving professionals are licensed and insured in each location, so our customers can rest assured that their possessions will be treated with care. All of our movers have liability insurance to cover any accidents or damage that might happen while they are loading or unloading.
Serenity Moving Services suggests that you schedule your loading and unloading service at least a week in advance to make sure that our team is available on the day of your move. This will give us enough time to coordinate details with you, arrange the necessary equipment, and plan out the job. If you're in an emergency, please get in touch with us so we can talk about your options. Our experienced professionals make every effort to ensure your satisfaction.
The cost of loading and unloading services in Oklahoma depends on a number of things, such as the size of the load, the distance traveled, any special equipment or skills needed for the job, and any other services requested. At Serenity Moving Services, we offer competitive prices for all loading and unloading services. For an exact quote tailored to your needs, please contact us directly so that we can provide you with an accurate estimate.