Loading and Unloading Services OK
Not every move is exactly the same. To say they are is dishonest and the professionals at Serenity Moving Services in Oklahoma are the last ones that would ever make such a claim. Yes, commercial moves involve businesses and residential moves involve relocating your household goods. But not every business is the same, nor is every home.
Other things usually differ besides the type of move. Sometimes, a move needs to happen quickly and within a hard-set timeline. Other moves need to take longer and may involve the movement of heavy equipment and inventory.
Then there are the types of moving services that are available based on your needs, timeline, and current situation. Maybe you need the help of a full-service moving company like Serenity Moving Services to handle every aspect of your move. Or maybe you only need help with certain aspects of a move.
The good news is, you have options. Yes, you can go full-service or do it completely yourself. But if you don't have the budget for a full-service move or are unable to do it completely yourself, you can also hire us to handle individual aspects of the move without breaking your budget while also alleviating a lot of the stress involved in doing it on your own.
For example, if you're not a fan of loading or loading, or if you're just in a place where you can't handle the physical nature of such a task, you can hire us to do it for you.
That's right, whether it's residential moving or commercial moving, we offer loading services and unloading services that can save you additional costs that a full-service move would entail while also saving you from the back pain from doing it yourself.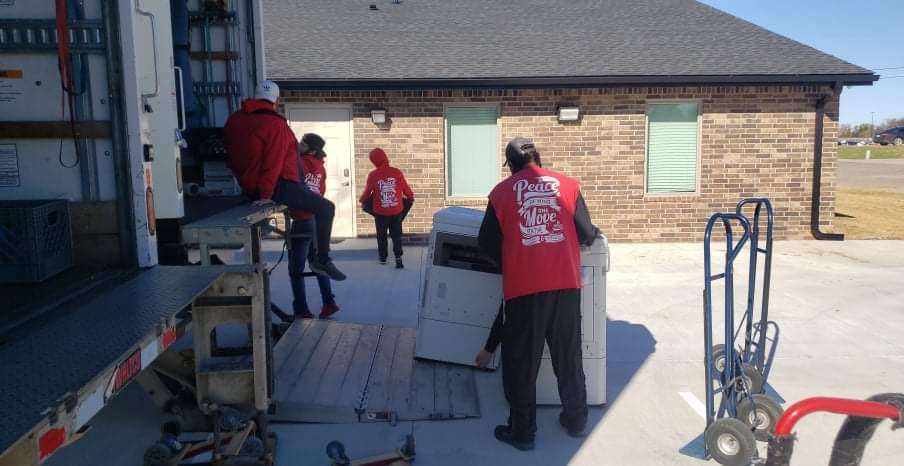 Why You Should Consider Our Loading and Unloading Service
Many of these have been mentioned already, but here is a brief snapshot of the main reasons why you should consider hiring help for loading and unloading your household goods.
Physical Limitations
There's no hiding the fact that moving is physically challenging. It's not just moving the big heavy stuff. It's also lifting and moving box after box. If those boxes have items like books in them, you already know how heavy they can become. Our pros even understand how tiring loading and unloading can be. That's why they work as a team. When it comes to loading and unloading your stuff, let us handle your items for you so you can save your energy for the packing and unpacking.
Budget Concerns
Moving costs money. There's no way of avoiding spending some money, even if you do everything yourself. And we at Serenity Moving Services completely understand everyone has different budgets and specific choices need to be made about how your money is spent on your move. If you're looking to save some money while also saving your body from aches and pains, let our skilled and experienced team do the work while allowing you to save some money for the overall relocation.
Timing
Not every relocation happens all at once. There are plenty of times where people find themselves relocating because they have to move for work or other reasons and know they have to leave their current location relatively quickly. However, that doesn't always mean they have their new location lined up and ready to receive their stuff. In cases like this, a storage unit often needs to be employed during the relocation and transition process.
Which makes it a perfect time to turn to us, where we can load your stuff and move it from your current location and unload it in a storage unit while you work out your arrangements at your new location. When you're ready to move into your new place, we'll unload your storage unit. This allows you to find your new place without feeling rushed, knowing we'll be here for you when it's time to move in.
Of course, these are only a few examples. Whatever your reason, if you're in need of loading and unloading services, Serenity Moving Services is your solution.
Best Loading & Unloading Services in Oklahoma
Loading and unloading isn't only about putting muscles to work to lift and carry items. A great deal of the work also involves properly securing items in place, especially during transit, so that your property isn't damaged through negligence or lack of training and experience. With Serenity Moving Services, you can rest easy knowing your items will be handled and secured properly throughout the loading and unloading process.
Our experienced team will also ensure all your items are accounted for during loading and unloading appropriately. We'll also ensure specific items are placed where they can be easily retrieved if you hire us to move your items into storage.
If You're Interested in More than Loading and Unloading Services
Serenity Moving Services is your answer to all of your moving needs throughout Oklahoma.
Our services include:
Full Service Moving

Local Moving

Loading and Unloading

Packing and Unpacking

Commercial Moving

Gun Safe Moving

Piano Moving

On Premise Moving
Contact Us Today
If you're in Oklahoma and looking for a company that specializes in loading and unloading services, choose us. Contact us today for a free quote or if you'd like more information! We're ready to help.