Full Service Moving in Moore, OK
If you're in need of moving services and are in and around Moore, OK, look no further than Serenity Moving Services. We have the solutions you're looking for, handled by local movers that will manage all aspects of your relocation.
If you're concerned about packing and unpacking because you hate doing both, let that concern go. Instead, hire us to do it for you. The same goes for loading and unloading. Pick the option you want, and we'll make it happen. And if you want us to handle every part of the move, our full-service capability has your needs covered.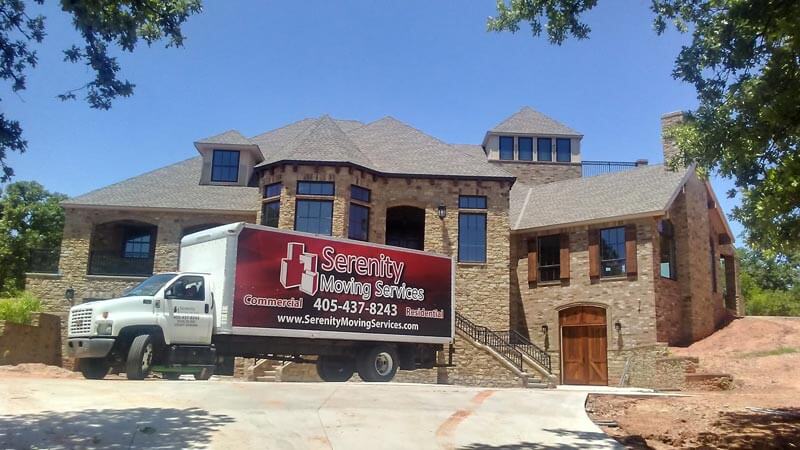 Our Services in Brief
A brief look at our services includes:
Executing these services are our well-trained, licensed, and insured professionals. With their experience and the right equipment, they'll make any move successful.
Eliminate the Stress of Moving
Moving is stressful. If it were fun, people would do it more often. And they wouldn't hire companies like Serenity Moving Services to help them out.
That doesn't mean all aspects of moving are stressful. Some people enjoy packing, while others like the workout that loading and unloading provides. However, not every aspect of moving appeals to everyone. In such cases, it's nice to know you can turn to us to help you with one aspect, like packing and unpacking, or hire us to handle the entire move.
The point is, you have options with Serenity Moving Services. Options that allow you to pick what you want help with based on your desires and your budget.
We completely understand if you only want help with something like loading and unloading and want to handle the rest of the move on your own. However, if you don't want to do anything other than tell us where your new location is, then you should consider hiring us for a full-service move.
If you go with our full-service option, we handle everything, leaving you with zero stress and worries. The hardest thing you might have to do is make the decision to contact us and say yes to full service. Well, that and telling us where you want your stuff once we unload it at your new place.
Full-Service Moving by Moore Movers
Again, a full-service move means exactly what it sounds like. You won't have to do anything outside of some basic paperwork and letting us know where to deliver your stuff.
Yes, it sounds great, and no, it's not too good to be true.
But if you want more details, here's what you can expect with our full-service option, in a nutshell:
We bring all the packing materials. When we provide your free quote, we'll have a good idea of how big your move will be and what we'll need to bring to ensure your stuff is packed properly for moving. This means we'll bring the packing supplies necessary to pack your items correctly and professionally. Packing materials include boxes, packing paper, bubble wrap, and plastic wrap to name a few.
We'll pack your stuff correctly and professionally. This means all boxes will be properly marked, numbered, and labeled with which rooms they were packed in. All items will also be included on an inventory sheet for accountability purposes.
Disassembly and reassembly of items. Not all items fit in a box, nor can they be transported safely and securely while remaining fully assembled. For cases like these where disassembly protects the product, we'll take them apart, keep track of all the pieces, and reassemble the items once they arrive at your new location.
Loading, Transport, and Unloading. We'll bring the right number of people to handle all the physical work. We'll also secure all of your items correctly during the transport phase to avoid any unnecessary damage.
Unpacking and removal of packing materials. Last but not least, we'll unpack all of your items and place them exactly where you want them. We'll also remove all used packing materials for proper disposal, saving you time and concern about disposing of them yourself. Once we leave, you'll be able to focus on settling in rather than cleaning up.
Best Moving Company in Moore, OK
If you're in Moore, OK, and need the assistance of a full-service moving company, Serenity Moving Services is here to make your next move painless and free from stress.
Yes, you can do a portion of a move or the entire thing on your own, but maybe you're in a spot where you don't have the time or physical capability to do all or part of it by yourself. Turning to our local movers to handle your moving needs is the perfect solution you've been looking for.
Choose us for your moving needs. Our team in Moore, OK, will treat your property like it's our own. That means we'll handle it with the respect, care, and attention it demands and deserves during the relocation process.
Contact us today if you'd like more information! We're ready to help and make your next move seamless and successful.
Frequently Asked Questions (FAQs)
The cost of moving services varies greatly depending on the size and distance of your move. Generally, our moves for long distance and local; are charged by an itemized based rate, while moves out of storage are based on a combination of time and manpower used.
Generally speaking, there are 3 types of movers: full-service movers, self-service movers, and specialty moving services. Full-service movers handle everything from packing up your belongings to loading and transporting them to the new location. Self-service movers provide only the transportation service and offer customers help with loading and unloading their items. Specialty moving services focus on providing specialized services such as automobile transport, piano moving, storage solutions, etc.
Yes, Serenity Moving Services is always insured. Our company goes the extra mile to protect our customers and their investments. We have a comprehensive insurance policy that covers any damages or losses during the move, as well as liability coverage in case of any accidents or injuries sustained by our employees while on your property. This coverage ensures the protection of your items in the event of an accident or unforeseen circumstance.
Yes, Serenity Moving Services provides installation services along with their other moving services. We can handle all types of installations including large furniture and appliances, as well as security systems and home entertainment setups. Our experienced team of installers is available to help make the transition into your new space a smooth one.
Most of the time, customers pay Serenity Moving Services for moving services after the move is complete. Payments can be made by cash, check, debit, or credit (Visa, Mastercard). For larger moves, payment plans can be arranged if needed. We are dedicated to making it easy and stress-free for our customers to pay for our services.