If you've been moving between a lot of places, then you probably are packing and unpacking pro by now. But if you are moving for the first time and the whole process has been overwhelming, or if you are on a tight schedule, then you can customize your move with Serenity Moving Services. We provide packing and unpacking assistance to help you with just exactly what you need for your move.
If you don't know anything about packing and unpacking and yet you try to save some bucks, then it's okay; that's your choice. However, in this process, there's a high chance you'll end up damaging or even misplacing your important belongings. So, let us be your 'organization guru' and show you the correct way to pack and unpack while moving. Call us now if you need professional packing and unpacking services in Oklahoma!
Packing & Unpacking Services For Moving In Oklahoma
Not every move is the same. Sometimes they have to happen quickly, within a fixed time frame. Sometimes, they can take longer and spread out more over time. It all depends on the nature of the move and whether it's a full move done by a full-service moving company like Serenity Moving Services or if it's a self-move where you handle everything involved in the relocation effort.
The decision on what kind of move you decide is often a product of budgetary considerations. There's no argument that when you hire a moving company, you will spend more money than you would if you made the move on your own.
What some people aren't aware of, though, is that those aren't the only two choices you have. Yes, you can go full-service or do it completely yourself. However, you can hire professionals like ours to handle individual aspects of the move without breaking your budget while alleviating some of the stress involved in doing it on your own.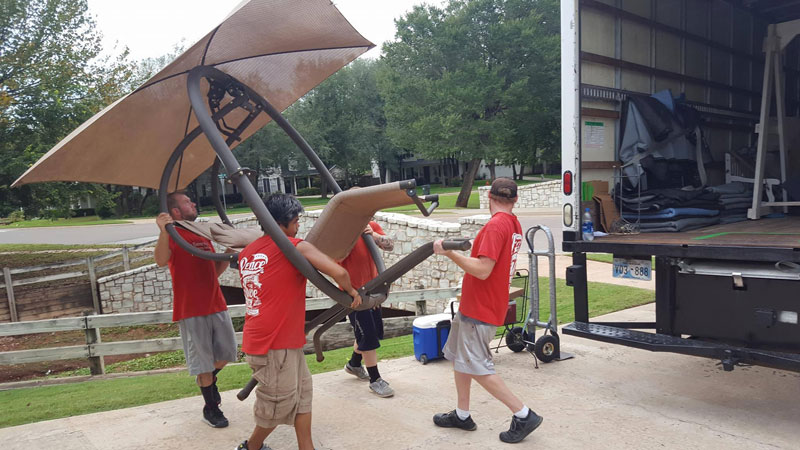 Our Full Packing & Unpacking Services Include
First and foremost, you'll be receiving a lot of help in the form of manpower. You hired us for a reason, and we don't take that for granted. We also understand your time is important to you. That's why we always assign the appropriate amount of labor needed to perform your packing and unpacking requirements promptly and professionally.
Here's a taste of what you can expect once our team gets to work:
We Provide All The Packing Materials. Once we have a good idea of how big of a move is involved, we'll bring all the appropriate packing supplies necessary to ensure all your items are packed correctly. This includes boxes, packing paper, and bubble wrap. We'll have everything we need ready.
We Won't Just Pack; we'll Pack Correctly. It's easy to put items in boxes, but doing it the right way actually requires some training. Our people are all well trained in how to pack a full range of items, including anything fragile, and know when to use a box and when something more rugged like a crate is necessary. We also keep an accurate inventory of everything that goes in each box and maintain an active log of all the box sizes we use.
All Boxes Are Logged Based On The Location In Which They Were Packed And Labeled Appropriately. For example, boxes used to pack kitchen items will all be clearly labeled K and box will be numbered. This coding system will directly correlate to packing inventory logs provided to you upon completion; for easier finding of items later.
Unpacking And Removal Of Packing Materials. Not only will we unpack your items, we'll also place everything exactly where you want it. We'll also haul away all the empty boxes and other packing materials so you don't have to worry about added clean-up. A lot of people don't consider the clean-up portion when choosing whether to go with packing and unpacking services, but most are usually surprised at how great it is when they don't have to worry about clean-up after the fact.
Why You Should Hire Movers For Packing & Unpacking 
The logic for hiring movers for packing and unpacking is simple – To reduce the risk of something happening to your items. Professional packers will carefully pack all of your belongings and make them fully ready to load into a moving truck for secure transportation to your new place (home or business). 
Here's the reason why you should hire Serenity Moving Services, a moving company with a team of experienced pack and unpack movers–
Time Efficiency
When you have commitments like work, kids, errands, etc., you might not have enough time to pack properly. When the last few days of your moving arrive, you might stuff your items haphazardly into random boxes. You might feel relieved about the packing, but the real stress hits when you open your boxes and see your items broken. That's why if you want to pack everything within a few days, you must hire professional movers. At Serenity Moving Services, we only charge you on an hourly basis plus materials used for our packing/unpacking services. 
Fewer Injuries
Packing is intense physical work. You are already dealing with emotional stress with your relocation, so if you pack yourself, you will have to lift heavy items like beds, sofas, etc., which can injure your back, knees, or other body parts. So it's better to leave this task to the professional movers who pack and unpack. All of our movers at Serenity Moving Services are highly trained plus experienced in terms of packing and will get the job done in no time.
Avoiding Damage To Belongings
While moving your items, there's always a risk of items getting lost or damaged. So, in cases like this, a licensed and insured packing company like us, Serenity Moving Services, will accept every responsibility for your items and take the liability of doing so professionally. You are moving your belongings safely, and if anything is to happen to them, we follow state and federal law with repairing or replacing the items based on liability assumed.
Upfront Pricing With No Surprises
If you want to utilize our packing and/or unpacking services only, please contact us for a free quote. We base all of our packing and unpacking quotes on the job's scope and the labor needed to get the work done promptly but professionally. The quote will be appropriate for the labor rate, materials, and the number of personnel involved, and will be detailed in your quote.
More Than Just Packing and Unpacking Services
Serenity Moving Services is your answer to all of your moving needs throughout Oklahoma. As a full-service, professional moving company, we handle everything from the beginning of a move to the end, when required. We can handle it all and do it with the care and protection you should expect from a moving company.
Our other services include:
Packing and Unpacking

Commercial Moving

On-Premise Moving
If that's not enough, we've also got the right equipment and supplies, professional know-how, and we're extremely good at what we do.
Contact The Best Packing & Unpacking Movers In Oklahoma
If you're in Oklahoma and looking for a company specializing in packing and unpacking services, choose us. We treat your property like ours with care, respect, and attention to detail throughout the packing and unpacking processes. Lastly, our team of tenured professionals is also licensed and insured. Not to mention we're always on time and good at what we do.
Contact us today for a free quote or if you'd like more information! We're ready to help.
Frequently Asked Questions (FAQs)
When hiring a moving company in Oklahoma, it is important to consider one that offers packing and unpacking services. Look for companies with a proven track record of providing quality service and who are experienced in the area you are moving to or from. Ask friends and family for recommendations, read online reviews, and compare quotes to ensure you get the best deal. Also, make sure that the company insures your items, so that any damage or loss is covered.
Yes, you can hire people to help you unpack. At Serenity Moving Services, we offer professional and experienced movers who are available for hire to help with your unpacking needs. Our movers will take the time to carefully unpack all of your belongings and make sure that everything is placed in its proper place within your new home. Additionally, they will also dispose of any packing materials as necessary.
Professional services can pack and unpack a wide range of items, including furniture, appliances, art, piano, gun safe, electronics, clothing, books, antiques, dishes and fragile items. We at Serenity Moving Services have the expertise to wrap and protect these items during the moving process properly. Our professional movers are trained in packing techniques that will maximize space in the truck or container and ensure that all items remain secure en route to their destination.
The cost of packing and unpacking services in Oklahoma vary depending on the size and scope of the move. We at Serenity Moving Services offer customizable packages to meet clients' particular needs and budgets. So, it's best to apply for our free quote so that we can accurately estimate of all the potential additional fees or charges associated with your move.
Yes, you can certainly pack some of your items yourself and have the packing service pack the rest. Our experienced staff will be able to assess your needs and help you decide what needs to be packed by the moving service and what can be done on your own. We can give you tips on safe ways to pack and materials to use, and we also have a wide range of supplies that can be used to pack your things.
Yes, Serenity Moving Services in Oklahoma offers insurance coverage for both packing and unpacking services. All of our insured services are conducted by certified professionals with years of experience in the industry, guaranteeing your items are properly packed and accounted for. All items will be documented prior to packing, and upon completion of the service, customers will receive a detailed inventory list of all items packed and/or unpacked.
Generally, Serenity Moving Services does provide all necessary packing supplies for your move, including boxes, bubble wrap, tape, and other packing materials. However, if you're on a budget and prefer to use your own packing supplies or purchase additional materials, we're happy to accommodate that as well. Our team of experienced packers can provide assistance regardless of the supplies used.
Yes, absolutely. At Serenity Moving Services, we understand that certain items require special attention and care. Our experienced and knowledgeable movers will work with you to determine the best packing methods and materials for your items. We customize our services to fit your specific needs and ensure that all of your belongings make it safely to their destination.
Yes, Serenity Moving Services offers packing and unpacking service that can also help set up your items in your new location. Our experienced staff will carefully unpack and place all of your belongings exactly where you'd like them in your new home. All of our packing and unpacking services are tailored to suit your individual needs, so we can make sure that everything is set up just the way you want it.
Yes, there may be additional fees for packing and unpacking services, depending on the company you hire. We at Serenity Moving Services in Oklahoma ensure that all of our customers are presented with an accurate quote that includes all fees associated with packing and unpacking services. Our team is always clear about any possible upcharges or extra fees, so you can make decisions that are best for you. We also guarantee that our rates are competitive to help make your move as affordable as possible.